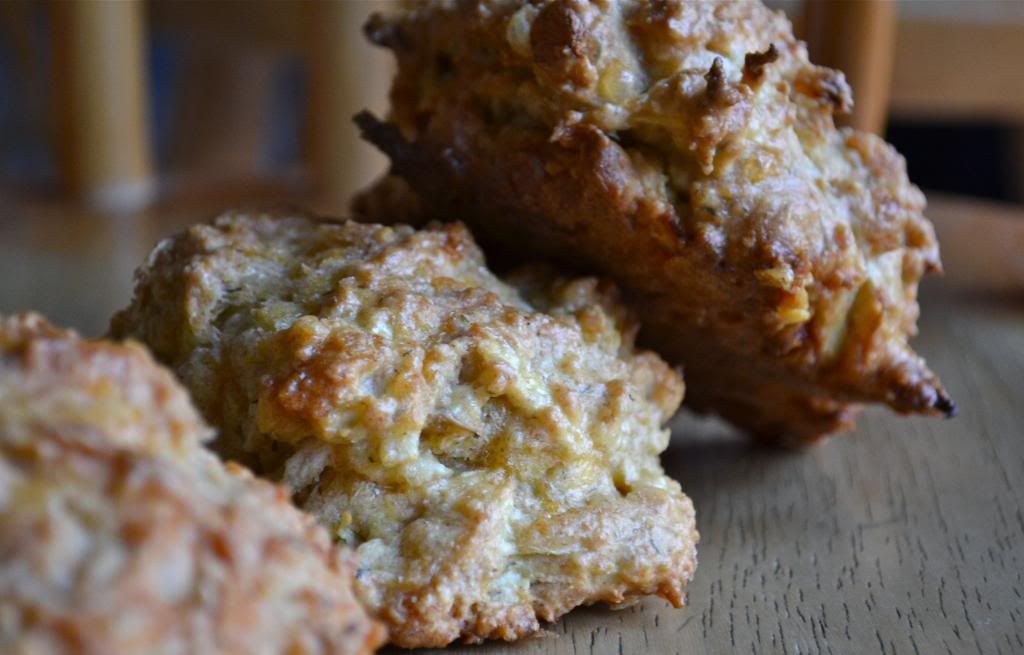 Oh crap.
It's already started. The countdown of weekends until Christmas break. It's the official beginning of crazy. The end of that illusive and undervalued commodity known as 'free-time'. The radio stations are introducing their early 'Christmas Loops' and in the U.S. they're getting ready to by thankful and then go shopping for more.
Yup - Christmas season approacheth.
I've already stopped looking at my calendar. It makes me feel worse when I do. The knot starts in my stomach and works it way into my throat. I thought that having kids out of diapers would make life easier but now we have to fit Kid #1's schedule into life as well. So this weekend marks the beginning of wall to wall concerts until Christmas when we can all take a rest and eat some Ham. Rather than planning it all out ahead of time I've chosen to take it a week at a time - or sometimes just a day or two at a time. Somehow it helps me feel better seeing the small steps rather than the big picture.
Fortunately, planning hasn't completely gone out the window just yet. I roasted a chicken with carrots and parsnips. I finally put the canner in the basement which totally counts as planning in my book. I've thought long and hard about how it's going to feel on that first day of the Christmas break. I've even managed to work through the food box veggies this week. A broccoli and leek soup helped me tear through a lot of it. However, being the it's-never-quite-enough person that I am and clearly having more spare time than was good for me, I needed biscuits. So I made biscuits.
Damn - that's only half the truth. I needed bread for school lunches. I tried a bread recipe that crashed - it was a train wreck. It dropped like a hockey puck. It sucked - big, huge, stupid rocks. (I know that big and huge are almost the same thing BTW) After my colossal fail, yeast and I needed a little time apart. I went in search of a quick bread biscuit. This recipe was perfect because it helped me work through the bag of parsnip that I got in the food box too - win/win.
These biscuits will not help me feel any more ready for the onslaught of the next 4 weekends. These biscuits will not drive my kids to wherever they need to go. These biscuits will not visit my Mother-in-Laws new condo for me but they will help me feel like I haven't just thrown a bowl of soup on the table ... nope, that bowl of soup has a delicious and nutritious homemade biscuit beside it.
Cue: Raucous Cheering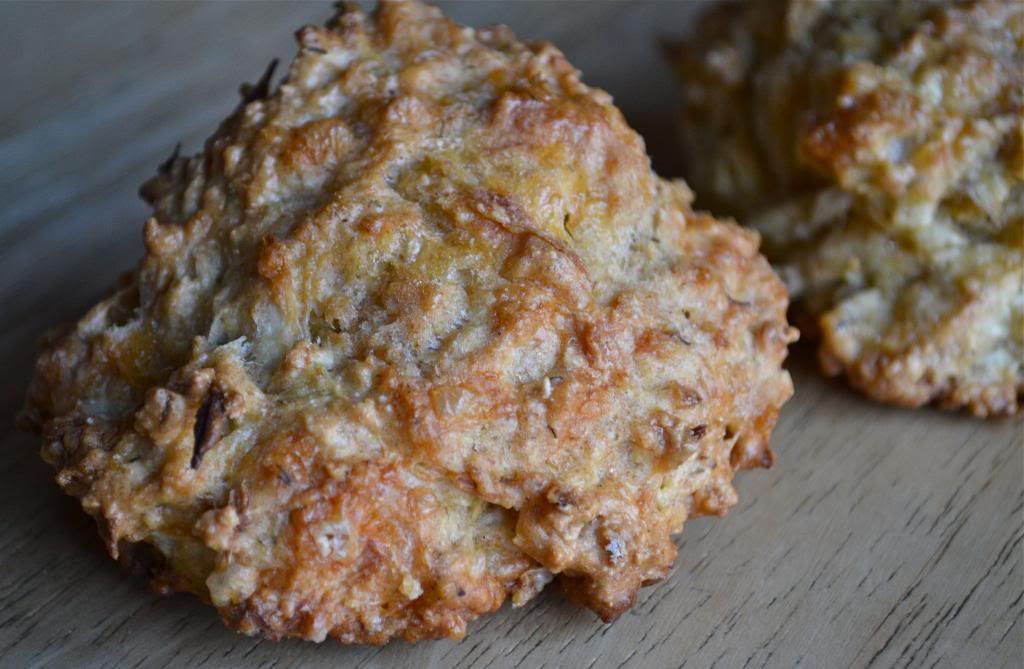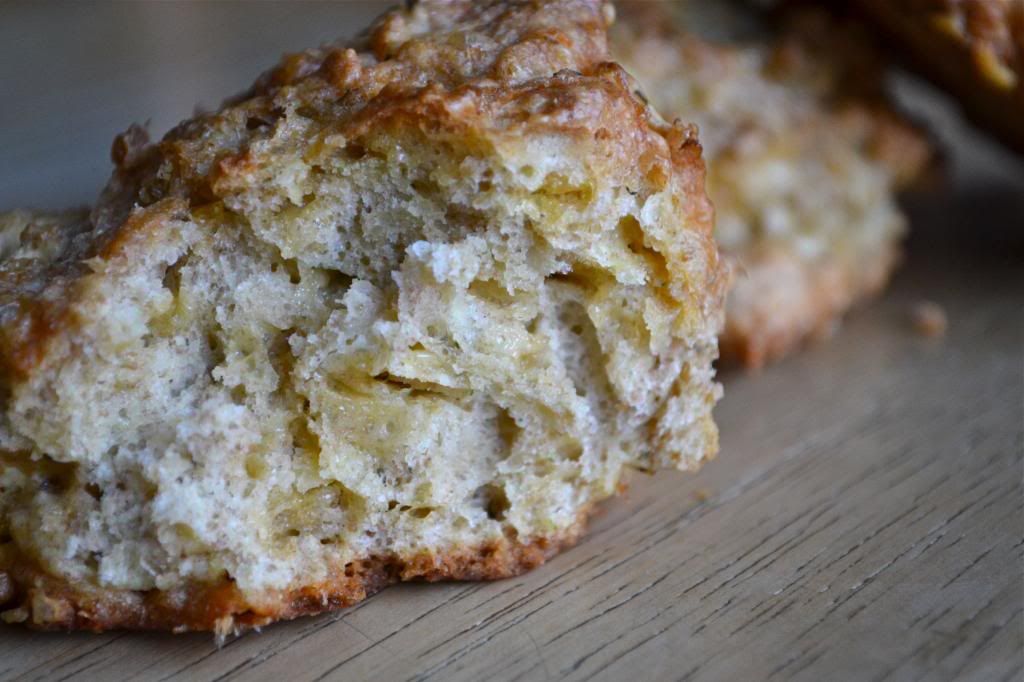 Parsnip and Cheddar Biscuits
adapted from 'Vegetarian' by Alice Hart
makes about 8 med/lg biscuits
1 cup unbleached all purpose flour
3/4 cup whole wheat or red fife flour
2 1/4 tsp baking powder
2 1/2 tsp salt
1 tbsp dried dill (or some other herb you have kickin' around)
1 1/2 (2 med/sm sized) parsnips, coarsely grated
3/4 cup old or sharp cheddar coarsely grated
3 lg eggs, beaten
6 tbsp milk
olive oil to drizzle
Preheat the oven to 375°.
Line a baking sheet with parchment or a silicon liner and set aside.
In a bowl combine both of the flours, baking powder, salt and dried dill. Mix well.
Add in the grated parsnip and cheddar and mix until both are distributed well and all pieces are completely coated with flour.
Make a well in the middle of the flour mixture and add in the eggs and milk. Mix until the wet ingredients are completely incorporated but don't over mix.
Scoop about a 1/2 cup of the dough at a time onto the baking sheet. Leave a little room in between each biscuit (they rise more than they spread though). Drizzle each biscuit with a little olive oil.
Bake for about 20 - 25 minutes or until the biscuits are golden brown around the edges and top.
Cool for a few minutes before breaking open, slathering with butter and eating with soup.
I don't know if you ever find yourself doing this but I've been noting for a while now just how much I over think some things. Not everything... just some things. Food and activity are at the top of my overthink list.
- What is 'overthinking' you ask?
Overthinking is the act of thinking too much. More than a subject or situation requires and subsequently gets you more stuck on the thinking than on the doing. (I did not get that from a dictionary or anywhere online - I just thought it up myself)
- But isn't 'thinking' always a good thing?
Well... usually. I can recall many occasions throughout history where thinking was actually quite dangerous. For most of us though, thinking keeps us alive and alert.
- So why is 'overthinking' something you are concerned about?
Well, you see, when I over think then I spend too much time in my own head. I ask myself too many questions. I give myself too much leeway and consideration when I really should just get over it and move on (usually just get moving). Later I feel like crap. I have learned not to ever ask myself if I 'want' to do something. (especially exercise related or eating of 'healthy' food) It inevitably results in at least an hour of wasted time pondering all of my possibilities... then I usually just go and do it anyway.
...
As you can tell, it's pretty easy for me to start overthinking pretty much anytime. That is precisely what happened for me yesterday.
...
It was a quiet day. Finally a quiet day. The kids were quietly playing or finishing homework. D was out at a rehearsal. I actually got myself out the door without too much fuss and ran a decent 9 k. And then there was this bowl of apples. They were just there on the counter quietly taunting me. And I started to think. I thought about the apples a lot. Why don't I eat more apples. Some of them are going really soft. I should pick one up right now and eat it. But I don't want an apple. That's why they're sitting there slowly going bad... nobody really wants to eat them. That sucks because apples are kinda awesome. But I still don't want one right now. It's really not good that I don't want to eat apples. I think my lack of desire for fruit says something about me. If I did eat the apple... And so on.
It went on like that for about an hour. I was completely caught in my thoughts - trapped, immobilized.
It wasn't until kid #2 came along and said that I should make some apple crisp because she wanted to try it (for real... I've never made it for her) and because we had some homemade vanilla ice cream in the freezer.
I won't tell you how long it took me to sift through some recipes and decide what to do but I finally got there.
Apple Crisp with Honey
adapted from '
A Small Snippet
'
makes 1 8x10 dessert
8 apples (I used a mixture of Gala and Granny Smith)
2 tsp brown sugar
2 tsp lemon juice
1 1/2 cups oatmeal
1/3 cup unbleached all purpose flour
1/3 cup whole wheat or red fife flour
1/4 cup wheat germ
1/4 cup chopped walnuts (or almonds)
1 - 2 tsp cinnamon
1/4 tsp nutmeg
1/8 tsp cloves
1/4 cup unsalted butter
6 tbsp honey
Combine the oatmeal, both flours, wheat germ, walnuts, cinnamon, nutmeg and cloves together and pulse in a blender or food processor just until the oats and nuts have broken down a bit. Set aside.
Butter a large baking dish (almost a 9x13 size).
Peel and slice the apples (I left some peel on mine to get the nutrient benefits). Place the apples in the buttered baking dish. Toss the apples with the brown sugar and lemon juice.
Melt the butter and then add in the honey. Stir until the honey is mixed well. Add the butter mixture to the oatmeal mixture and mix until everything is wet and crumbly.
Pour the oatmeal mixture over the apples.
Bake for 35 - 40 minutes or until the apples are soft and bubbly.
Cool for about 10 minutes before serving... with homemade vanilla ice cream.

Archivo del blog

About Me
St Michael's Choir School is celebrating it's 75th anniversary year of service to St Michael's Cathedral. Part of the school celebration is a trip to Italy where our boys from Grades 5 - 12 will be performing and celebrating Mass. This blog will be chronicling our adventures. Wanda Thorne is the Vocal Coach at St Michael's Choir School. Gerard Lewis is the Grade 7/8 Homeroom teacher at the Choir School.
View my complete profile

My Favourite Cookbooks
About Me
Wanda Thorne

St Michael's Choir School is celebrating it's 75th anniversary year of service to St Michael's Cathedral. Part of the school celebration is a trip to Italy where our boys from Grades 5 - 12 will be performing and celebrating Mass. This blog will be chronicling our adventures. Wanda Thorne is the Vocal Coach at St Michael's Choir School. Gerard Lewis is the Grade 7/8 Homeroom teacher at the Choir School.
View my complete profile

Pages