It seems like yesterday that I was running around Italy with 180 boys. It wasn't yesterday though, it was last April. Seven whole months ago. It seems like yesterday though because I've been running around small town Ontario for the last two days with 180 boys. Italy vs Small Town Ontario? I won't comment.
We just finished a very short, whirl-wind tour to kick off our 2013 Christmas Concert Season. You forget the pain of tour so quickly when it's over and then it hits you so quickly once you are back in the saddle again. The exhaustion. The lack of food. The constant running. The long hours. The stress of concert after concert. The tour becomes your life for that period of time. You forget that you used to like breakfast and reading the paper. You forget that eating could be a pleasant experience. You forget that the internet is a real thing and that news is still happening somewhere.
In the 48 hours while I was away Kid #1 got her first 'Will you go out with me' request (which she declined but they are still friends apparently) and handed in her high school applications, Kid #2 had a play date and skipped Karate class and D played a dance class for a Canadian dance Icon. That's just the news at our address - the stuff I missed within the walls of the little place we call home. Just imagine what else happened out there.
When it comes to food on tour it's usually pretty depressing and the last 48 hours have done nothing to lift my mood. Day one presented pizza, apples and granola bars for lunch and dinner was lasagna, salad and a bun. Day two brought us pizza for lunch (no apple, no granola bar) and lasagna, salad and a bun for dinner. I'm sensing a theme here. I know that it's hard to successfully feed 200 people on a budget but it's like the two churches (in different towns no less) got the same deal or something. Day one I ate 4 apples and two cartons of chocolate milk, 1 salad and half a bun with two bites of lasagna thrown in there before I gave up. Day two: 1 salad and a bun with two bites of lasagna before giving up.
Lessons learned from this tour:
1. Most boys under the age of 30 are more concerned with how much food there is rather than what that food tastes like.
2. If given the choice between church coffee and church tea, always choose tea.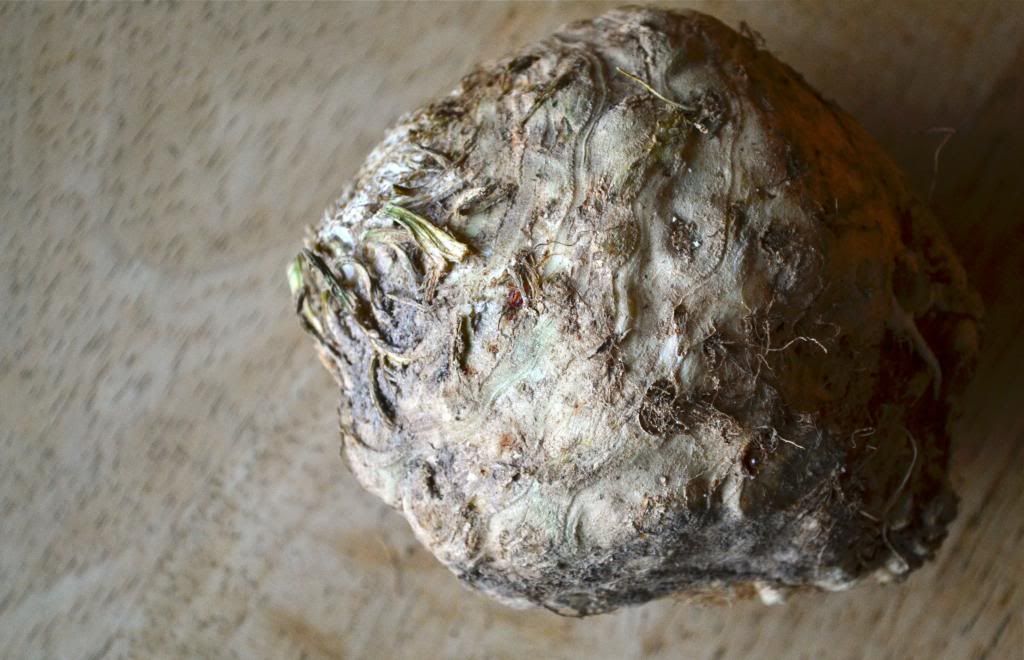 This soup is neither pizza nor lasagna and although it tasted great nobody was jazzed about eating it except kid #2 (oddly) I think that a couple of days alone with my tour menu would fix them all right up.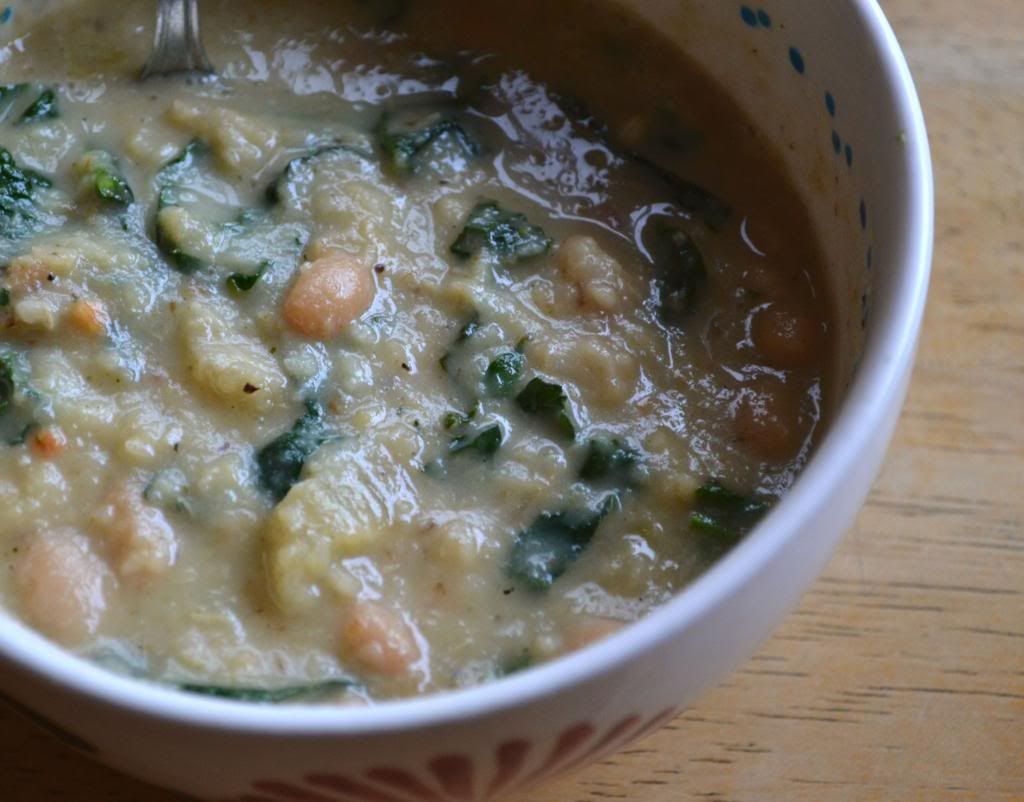 Roasted Celeriac and Fennel with Kale and White Beans Soup
serves 8
1 med sized celeriac (celery root), peeled and cut into 1 1/2 inch chunks
2 small fennel bulbs, thickly sliced
3 cloves of garlic, whole and still in the skin
grease or oil to coat
1 leek, washed and thinly sliced
2 cups kale (I used lacinato/black kale), torn or sliced into rough slices
1 can (about 1 cup) white beans (cannellini or navy bean), drained and rinsed
4 cups good broth (I used leftover turkey broth - surprise surprise)
1 tbsp parsley, oregano, marjoram
1 tsp rosemary
1/4 tsp nutmeg
2 tsp salt
1/2 cup parmesan
1/2 - 3/4 cup milk
Preheat oven to 350°F
On a baking sheet, spread out the celeriac chunks, fennel and garlic. Toss everything in some oil or grease. Spread out evenly on the baking sheet and sprinkle with a little salt and pepper. Roast for about 35 - 40 min or until everything is soft and golden brown.
Remove from oven and set aside.
Heat a large soup pot or dutch oven over med/low heat. Add a little oil or butter (about 1-2 tbsp) and the leeks. Let them cook over low heat for about 7 - 8 minutes. Remove the casing from the roasted garlic and add the roasted veggies to the leeks. Stir to mix. Add about half of the broth and heat through.
In a blender or using an immersion blender, blitz everything until it is a smooth consistency. (Pour back into the pot if you took it out to blend) Add the rest of the broth and stir to heat through. Add the herbs, nutmeg and salt. Mix well. Check the taste.
Add in the kale, beans and parmesan and heat through until the parmesan has melted in.
Add about 1/2 cup of milk - more if you would like it a little thinner.
Check the taste and adjust (like by adding pepper sauce) if necessary.
You decide to take a day off (in lieu of all the over time that you've been putting in because it's the most wonderful time of the year and all of that) and it becomes this magical, mystical thing. You anticipate all of the things you can do on your day off. You relish the thought of sleeping in, even though kids need to get to school so realistically you still need to get up with them. You think about all of the things you can do tomorrow instead of today because you have tomorrow off. You can't wait to watch daytime tv with nobody else around. Space in your own house, lying on the couch - the whole couch - and not having to share.
Then the day off happens. You send an email to work and tell everybody that you are working from home. Then you get 3 emails that need to be responded to immediately. Then you get a phone call from work. Got a message and need to call them back ASAP. You go for a run because that just has to happen. You throw in that laundry that you could have done yesterday. You water all the plants and turn the tv on while doing all of it because you feel like if you don't you will miss that stupid show you never get to watch. You go out and catch up on the errands that (again) you could have done yesterday but didn't because you had this 'day off' coming up.
You start putting things together to bake those awesome cupcakes that you wanted to make for the last few days. You've run out of baking powder. Baking powder? Who runs out of baking powder. It's so weird that you realize you've run out of baking powder on your one day off. It's so random that you've now discovered you can't make those cupcakes and you've already run your errands. Now you don't have time to get more baking powder before picking Kid #2 up from school. You still haven't returned that work message - Oh yeah, and gotten on top of those ten other messages that came into your work account over the last hour.
And just like that, your day off is gone. It's the past. I'm not even going to talk about what the next day at work is like because you took that one day to work at home. You tell yourself that you won't make the mistake of trying to accomplish too much if you take a day 'off' again but you know that you will do it all again the next time it rolls around.
That brings me to these muffins. I had too many carrots. I think that I got mixed up with my food order. I usually order my food box stuff online and my computer is in the kitchen... right next to the fridge in fact. There is no excuse. I should have just opened the fridge door and looked. Whatever, I had two bags of carrots... but no baking powder. That required a second trip to the store.
The moral of this story is: Whatever is on your list will eventually get done but not all on your day off... well, unless the only thing on your list is 'do nothing'. Then your chances of getting through the list is probably pretty good.
Chocolate Carrot Cupcakes
adapted from
Heather Cristo
makes 1 dozen big cupcakes
1 cup carrots (about 3 medium), thinly sliced
1 tbsp butter
3 tbsp water
3/4 cup unbleached, all purpose flour
3/4 cup cocoa powder (I used some dark stuff - 'Cocoa Camino' is really good)
2 tbsp baking powder
1/2 tsp baking soda
1 tsp salt
1 tsp espresso powder
1/2 cup unsalted butter
3/4 cup sugar
1/2 cup brown sugar
2 eggs
1 tbsp vanilla
1/3 cup milk or 10% cream
Put the carrots, 1 tbsp butter and 3 tbsp water into a small pot. Bring to a boil and then simmer at med/low heat for about 7 min or until the carrots are soft. Mash and set aside to cool.
Preheat the oven to 350°F
Line a cupcake tin with liners or whatever you usually use (butter and flour them all if you want)
Sift together the flour and cocoa powder. Add the baking powder, baking soda, salt and espresso powder and set aside.
Mix or whisk together the butter and both sugar's until light and fluffy - about 3 minutes. Add in the eggs and vanilla and beat for another 2 minutes.
Add the carrot mixture to the egg mixture and mix until combined.
Add the flour mixture to the carrot mixture and gently whisk until combined.
Add enough milk or cream to get the batter to an almost pourable consistency.
Fill each cupcake cup to the brim.
Bake for about 22 minutes or until a tester comes out of the middle cupcake clean.
Cool for about 12 - 15 minutes.

Archivo del blog

About Me
St Michael's Choir School is celebrating it's 75th anniversary year of service to St Michael's Cathedral. Part of the school celebration is a trip to Italy where our boys from Grades 5 - 12 will be performing and celebrating Mass. This blog will be chronicling our adventures. Wanda Thorne is the Vocal Coach at St Michael's Choir School. Gerard Lewis is the Grade 7/8 Homeroom teacher at the Choir School.
View my complete profile

My Favourite Cookbooks
About Me
Wanda Thorne

St Michael's Choir School is celebrating it's 75th anniversary year of service to St Michael's Cathedral. Part of the school celebration is a trip to Italy where our boys from Grades 5 - 12 will be performing and celebrating Mass. This blog will be chronicling our adventures. Wanda Thorne is the Vocal Coach at St Michael's Choir School. Gerard Lewis is the Grade 7/8 Homeroom teacher at the Choir School.
View my complete profile

Pages