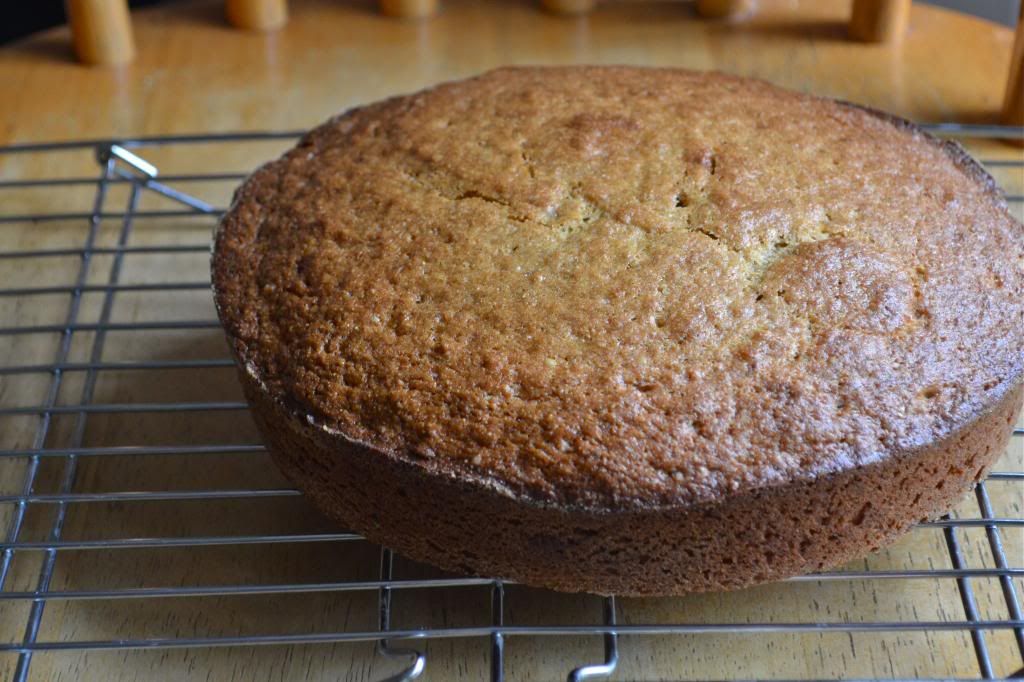 I feel like I've blown my wad in terms of what I have to say this week. I even gave you pictures of this week's food box. What that means is that a whole lot of potentially meaningless and definitely random thought paragraphs are coming right up...
I'm at the halfway point of my summer break. I think that I've finally gotten work 90% out of the way and can spend the rest of the month without it eating away at the back of my brain.... mostly. That helps me breath a little bit easier.
I realized the other night that I don't talk about myself very much at all. There are very few people who I really talk to. Mostly, I listen and offer my two cents worth of advice and/or perspective. I wonder if people notice that I don't talk about me? (They probably do) I wonder if it pisses them off that I don't talk more about myself. (don't know about that one) Most people seem perfectly happy to talk about themselves and don't return with terribly probing questions. Definitely, no one has ever asked me about my lack of personal dishing, leading me to believe that no one notices. It's not that I have nothing to say about myself, my life, my situation. I do. I feel like I have to be very careful about what I say because I'm kinda out there sometimes [a lot] and that doesn't always go over well. Still, shouldn't I be looking for more people that I can really talk to... and I mean really. Maybe it's not 'them' - Maybe it's me.
This blog is a place where I open up a whole lot more. I think that the act of typing it out helps me work out what I'm truly thinking and feeling. There have been many times when I've typed something out that I've gone back and deleted - sometimes the whole thing and sometimes just significant portions. This probably seems hard to believe because most of the time it reads like I don't even spell check. [This, sadly, is true]
In other news:
We saw the
Wolverine
movie in the theatre yesterday and two hours later I had forgotten that I'd seen it.
I rented
Trance
the day before that and will never forget that I saw it.
Why is Blurred Lines so popular when
this one
exists - I must ask.
Lastly, please take a moment to be super impressed that I've posted three times in one week. Three Times.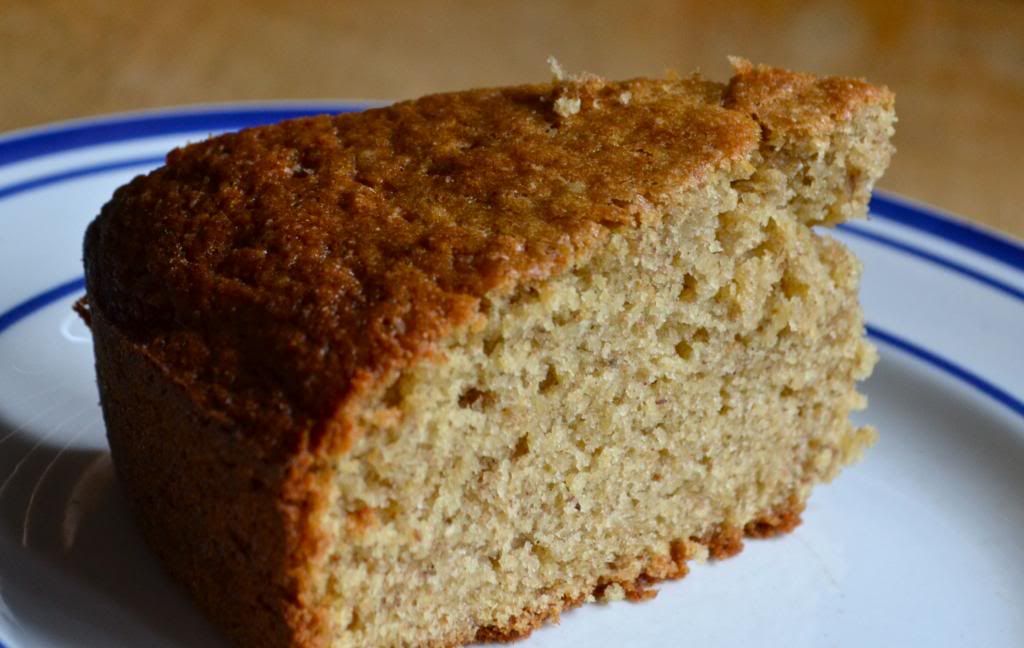 I took this very simple, very homey cake to a girls-night-in recently. It was definitely one of those situations where I didn't say much about myself. But I brought cake and that should cover my butt. Besides, my friends had a lot to say. The cake, despite it's humble appearance, has a lovely crumb, robust taste and comes together quickly and easily.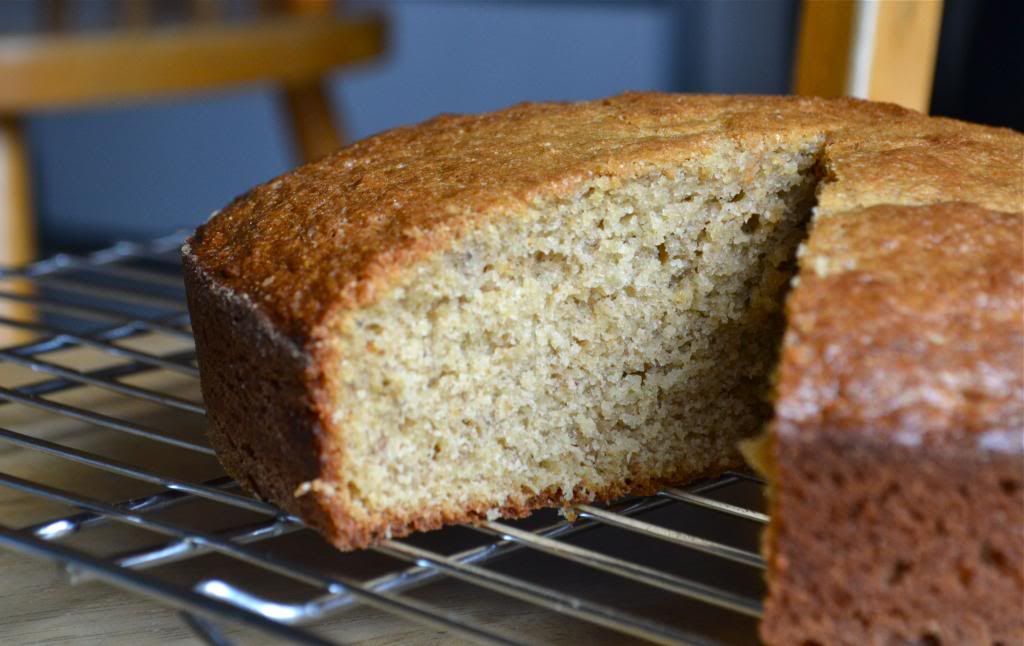 Banana Cardamom Cake
adapted from 'Good to the Grain'
makes 1 9inch round cake
1 cup all purpose flour
1/2 cup red fife or whole wheat flour
1 tbsp baking powder
1 tsp salt
3/4 tsp ground cardamom
1/2 tsp cinnamon
1/4 tsp nutmeg
1/3 cup unsalted butter at room temperature
1/2 cup dark brown sugar
1/2 cup sugar
3 ripe bananas (about 1 cup)
2 eggs
1/3 cup plain yogurt (or sour cream)
Grease and flour a 9 inch round cake pan. Set aside.
Preheat oven to 350°F.
In a bowl, sift together the flour, whole wheat flour, baking powder, salt, cardamom, cinnamon and nutmeg. Set aside.
In another bowl combine the butter and sugar. Beat until creamy (mine never quite got there).
Add the bananas and beat until well incorporated.
Add the eggs and beat until definitely creamy.
Add the yogurt and beat until well incorporated.
Add the liquid mixture to the dry mixture. Mix just until everything is wet and smooth.
Pour evenly into the prepared pan. Give it a little drop on the counter to get out the air bubbles.
Bake for about 50 - 60 minutes but check after 50 - tester should come out clean from the middle of the cake.
Cool.
No less than 3 times over the past week and a half have I found myself intimately discussing women's bodies. It wasn't the good kind of discussing unfortunately. It made me sad. It reminded me that for women body image hasn't changed much since the late fifties. Very sad. It reminded me that as a woman body image is going to be an uphill challenge for the rest of my life.
One conversation was regarding the royal pregnancy (which, can I just reiterate here - I don't care much about at all beyond 'it's nice they had a baby') and more specifically the royal post pregnancy body. Now this I care about. I am absolutely incensed that Kate is being maligned for having a post pregnancy belly not two days after giving birth. I must give kuddo's where kuddo's are due. Since most celebrities either don't show their post-birth bodies until they've lost all of the weight or they have surgery immediately after the birth, I must applaud Kate for what must have been a very gutsy and honest decision... to walk out of that hospital. Guess what. That's what most women look like after giving birth. It's beautiful - she and her beautiful belly are powerful and gorgeous.
Another conversation was about a woman's legs and booty. A performer was wearing a wonderful pair of shorts which beautifully showed off her ample thighs and booty. She wasn't skinny. She had cellulite (OMG). She was gorgeous. Not just her face but all of her... absolutely gorgeous. My friend thought that, although this woman had a beautiful face, she needed to keep that thigh stuff under wraps... clothing more specifically. Allow me to clarify that the performer was not wearing anything obscene. To clarify further, I don't believe that cellulite is obscene.
A third conversation was about not wearing shorts... for many years because of insecurity and fear of judgment. By the third conversation I was starting to feel frustrated, angry and even militant.
This weeks food box contents - for those interested.
So now I start thinking out loud. Just rambling really because I can't even quite put together what is most upsetting for me about this whole body image thing.
Cellulite, jiggling, flat stomach, ripped abs, stretch marks, arm flab... hell, even grey hair. Everything must be altered according to.. to what? Social convention? I don't even know but it feels like we are never good enough unless we've changed stuff about how we look and therefor we are constantly working on changing it so that it better matches what we see on a page or on a screen 'cause sure as shit our mirrors don't reflect those images back at us. I wonder:
Why do we judge each other's bodies with such damning severity?
After all of these years, is Twiggy still the only benchmark for body beauty?
Is my daughters generation as obsessed with body image as my generation is/was?
Who cares if people think I'm fat? I'm not hiding.
I've been reading
this blogger
quite a bit over the past few months. I especially loved what she said about
running
and really exercise in general. She has given me hope that there are a growing number of women out there not constantly judging themselves and others against this extremely rigid model of beauty or so-called normal.
I love what this
photographer is promoting
. Sometimes I feel like I'm going to cry when I look at the pictures.
When I think about the crazy that surrounds weight loss on this continent it makes my head spin. Keeping us - most especially women - unhappy with their bodies means that a lot of people make a lot of money. A lot. Quite frankly, none of us can keep up with
all of the diets and 'good' advice
.
To conclude my not-so-well-put-together rant: I don't believe that skinny is beautiful. I don't believe that fat is beautiful. I believe that being a woman is beautiful... whatever her shape and size. I'm so tired of fighting against the machine that my insides hurt. I believe that I am beautiful because I am.
Here is a recipe of food that tasted good. Eat and love yourself.
Roasted Summer Vegetables with Sausage and Rotini
serves 6
2 fennel heads, cut into 1 inch thick slices
2 red pepper, seeded and cut into 1 inch thick lengths
2 yellow or green zucchini, halved and cut into 1 inch thick slices
4 italian sausages (about 1 - 1 1/2 lbs), halved
5 - 6 tbsp olive oil
salt and pepper
4 cups rotini pasta, cooked al dente (as per the package instruction time)
juice from half a lemon
pinch of nutmeg
1/2 cup (approx. - think a generous sprinkling) parmesan cheese, grated
drizzle more of olive oil
Preheat oven to 350°F.
Place all of the vegetables on a big baking sheet or cookie sheet. Add the olive oil and toss the veggies to coat everything. Spread the veggies out evenly on the baking sheet. Sprinkle with salt and pepper.
Add the pieces of sausage to the top.
Roast for about 25 - 30 minutes or just until the veggies have browned nicely at the edges.
(Meanwhile - cook the pasta if you need to)
Remove the baking sheet and cool slightly. Sprinkle with a pinch of nutmeg.
Combine the veggies and pasta together in a large bowl and toss well.
Add the lemon juice and toss.
Sprinkle with the parmesan cheese and toss.
Drizzle with a little more olive oil if you like.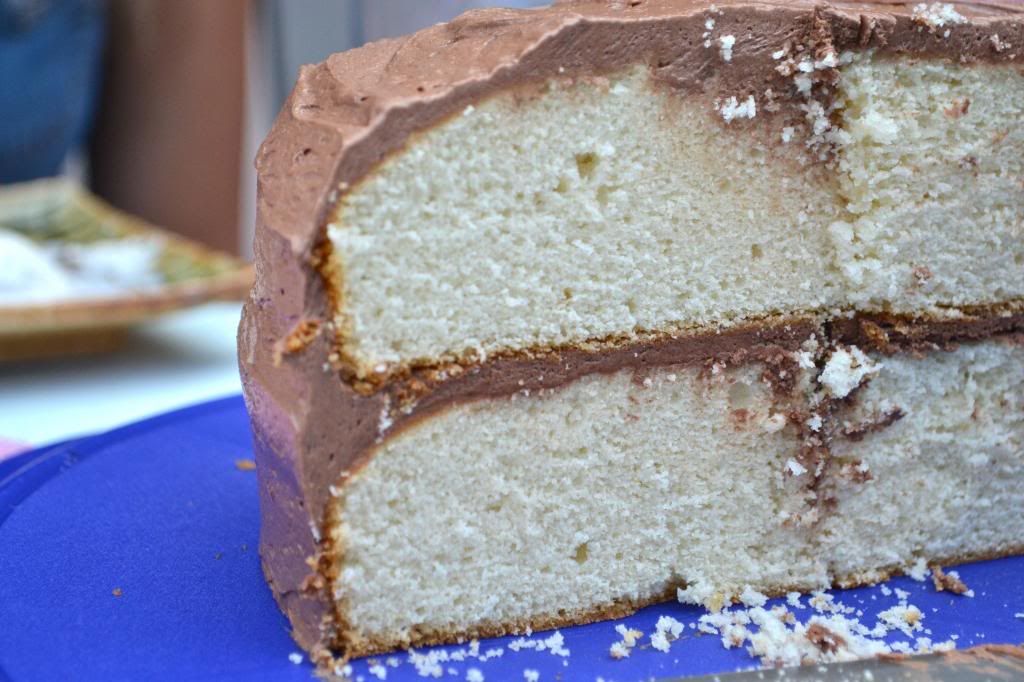 What does one do when one is having a birthday party barbecue that one might not have necessarily wanted to have but it seemed like the least worst of a few bad situation possibilities? Well, one certainly does not try to reinvent the wheel.
What does one do when one is having a birthday party barbecue that is the last big thing on her to-do list before truly and properly going on vacation? (stay-cation, whatever) She absolutely does make things as easy as possible for herself. Oh - and she definitely goes for a run because she's going to need it.
What does one
not
do when one is having a birthday party barbecue? Well, one doesn't stay up late watching a movie... except that's what I did. Not my smartest move but it was a good movie -
'The Trotsky'
a canadian flick with Jay Baruchel, set in Montreal, wonderful. Who can resist.
I haven't been any kind of big time home entertainer or anything like that but I've learned one thing through my years of experience. It sounds wrong when I say it out loud. It's ludicrously simple, ridiculous even. It seems counter-intuitive in this modern age of healthy. Here it is:
Make Dessert First.
I know. I know. Most of us don't even consider dessert. Why would we when we can just buy it - it's so much easier. But I can't. Especially for birthdays. I'm riddled with guilt if I purchase something... even if I get their name written on it. Whatever it is you are having for dessert make sure that you've figured it out and either bought it or made it first. It will set the tone for everything else. It will change how you feel about the entire meal, the whole event.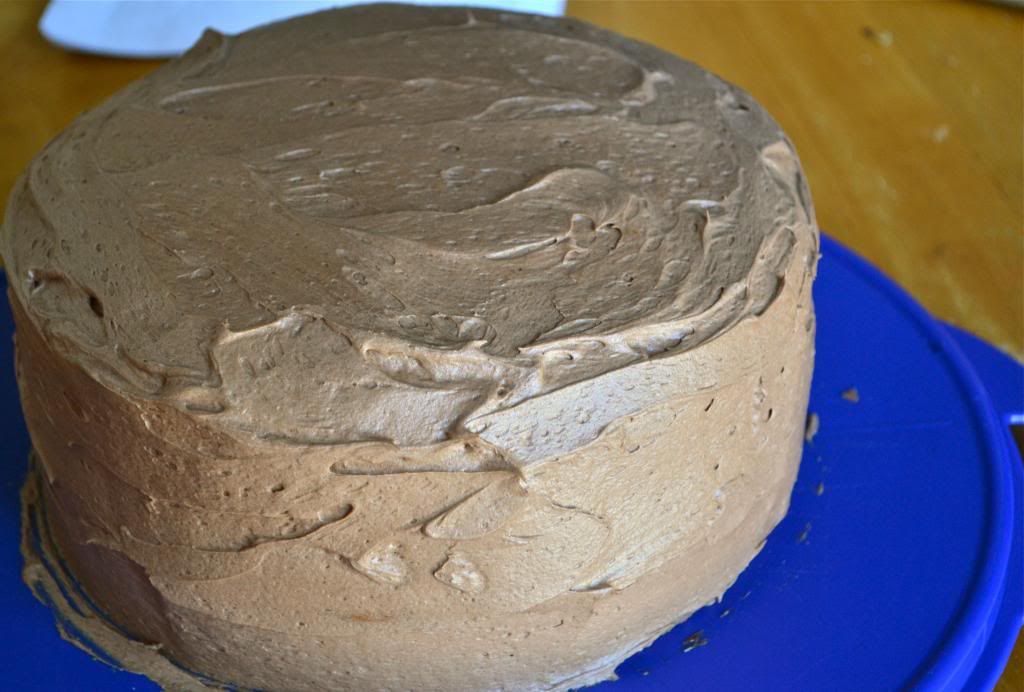 And thus I found myself on the eve of the birthday party barbecue that was the lesser of many evils, making birthday cake. What turned out to be a great birthday cake and a not too sweet icing that made the perfect quantity for the cake (ie. no leftover icing). Birthday cake or homemade dessert or just damn good dessert of any kind will make up for any number of dinner party violations. Violations like having a broken toilet and therefor making your guests go to the basement to use that one. How about forgetting that people need plates for appetizers that drip (oops) or forgetting napkins altogether. Then there is the lego that's as plentiful as dust in our house. It took Kid #2 two days to get it all in one area and even then our 94 yr old Auntie was finding them under her feet sometimes. Yup - even with all of that you will be excused if dessert is good. And it was.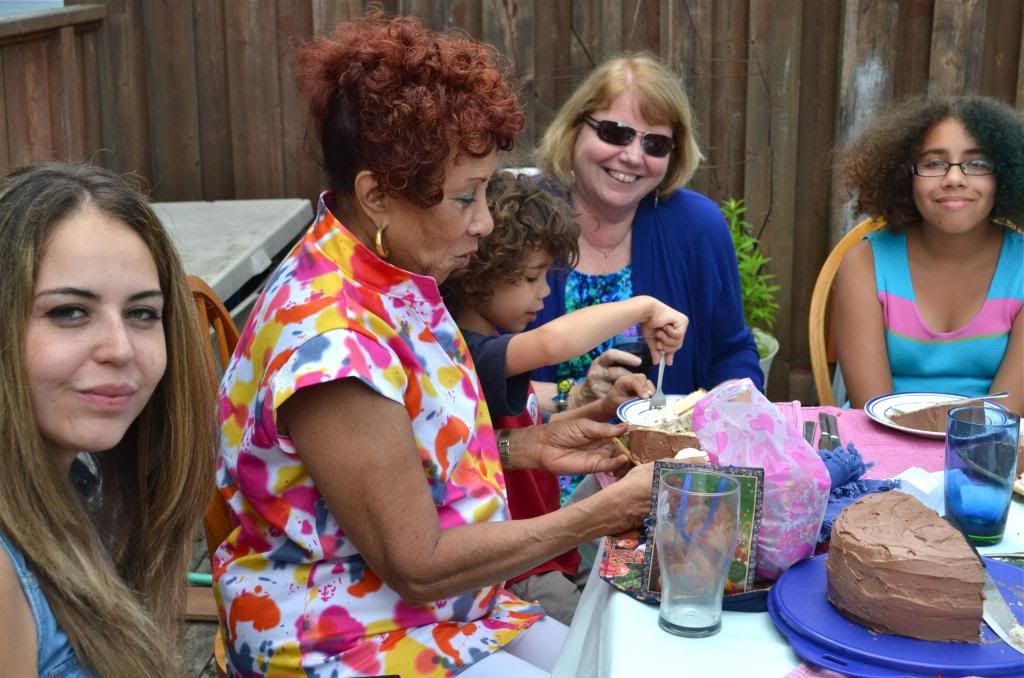 Our two birthday girls are the first two on the left. Lovely Ladies.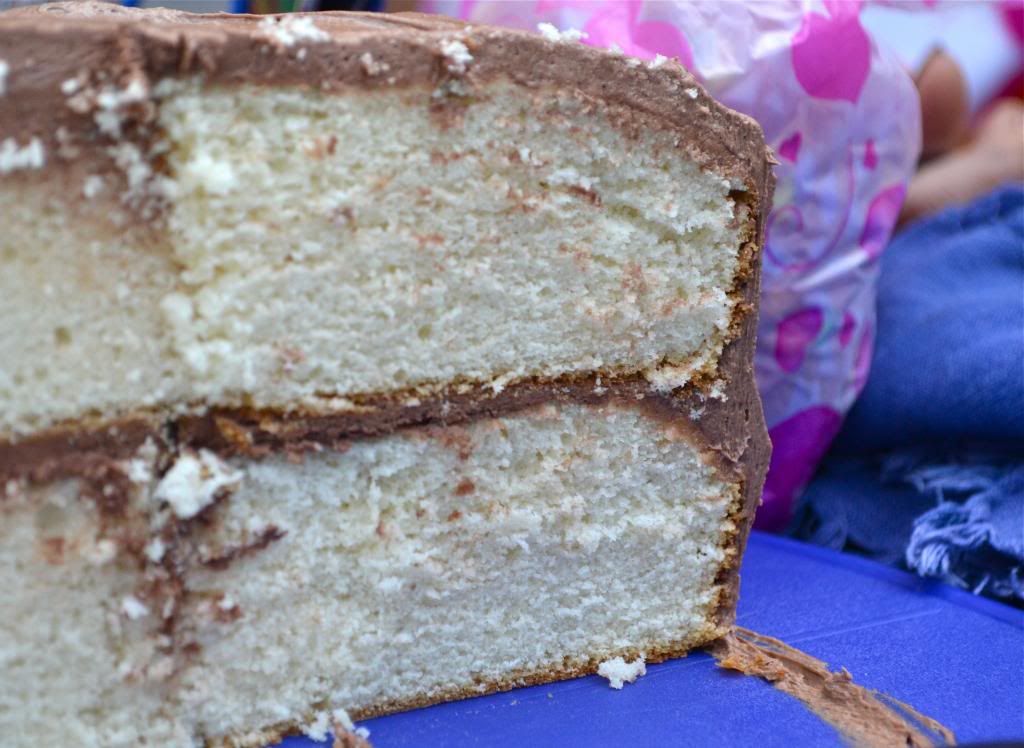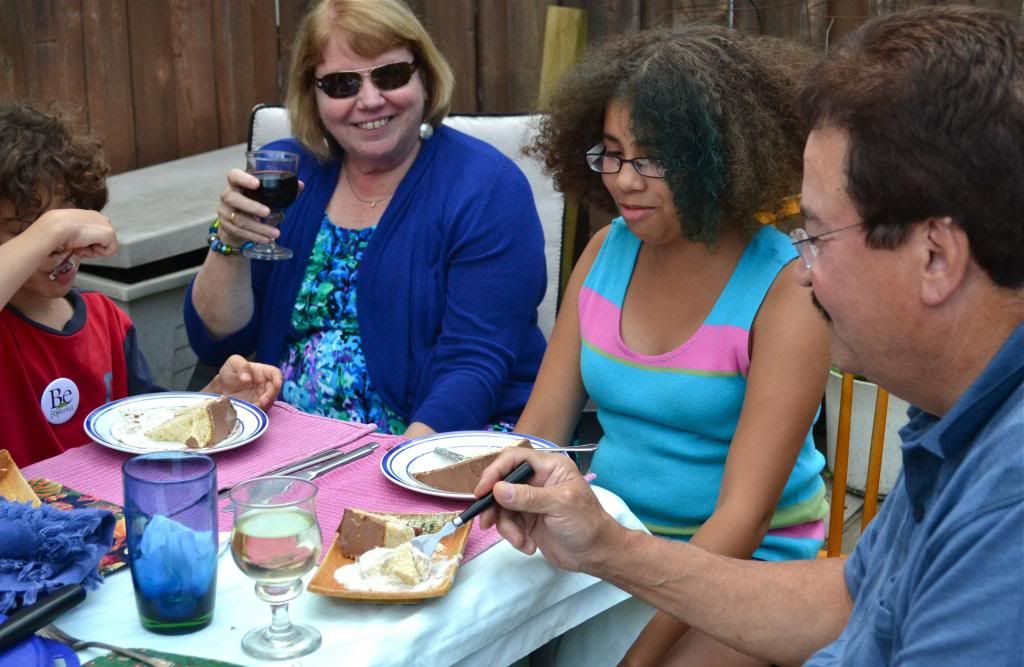 Nobody here is a birthday girl or boy.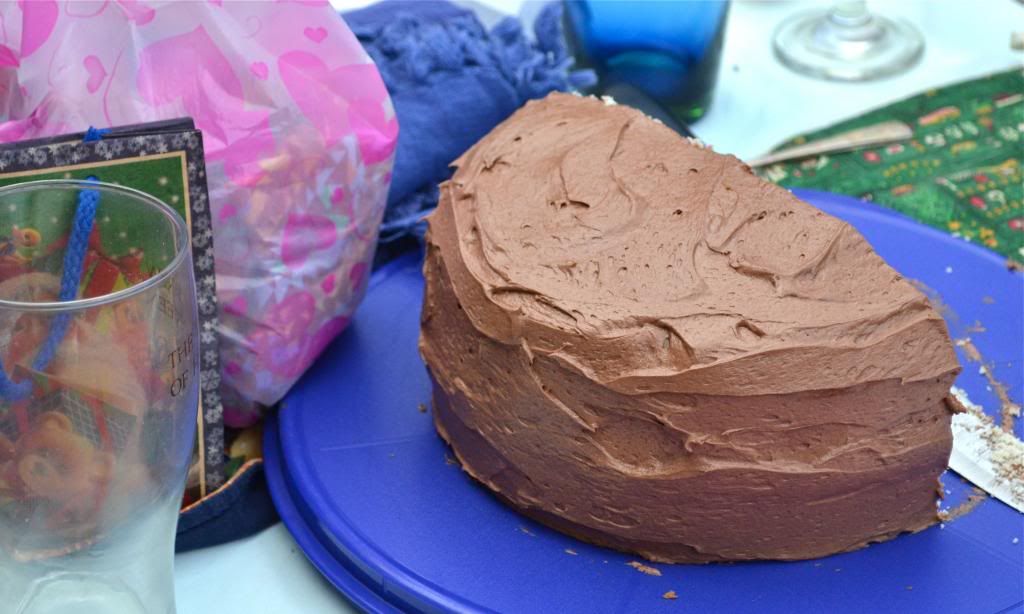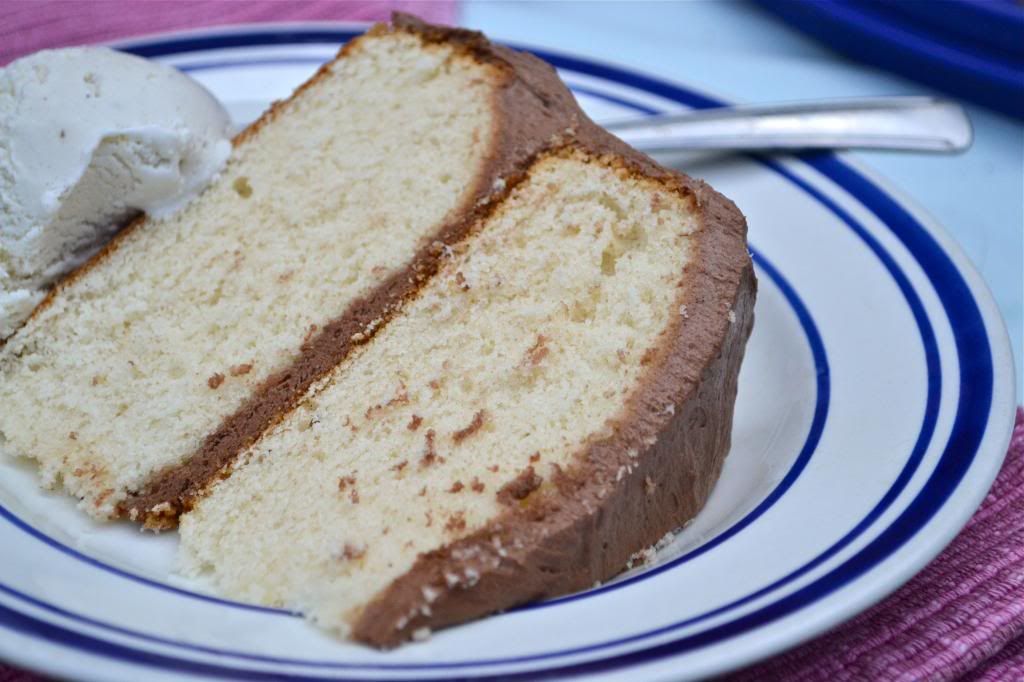 White Cake with Buttery Chocolate Icing
adapted barely from
Epicurious
makes 1 two layer cake
2 1/4 cup cake and pastry flour
1 3/4 cups sugar
4 tsp baking powder
1 tsp salt
1 cup milk at room temperature
6 lg egg whites (about 3/4 cup or just a little more) at room temperature
3 tsp vanilla
3/4 cup unsalted butter soft but still coolish
Preheat oven to 350°F
Grease and flour two 8 inch round cake pans and set aside.
In a large bowl, sift together the pastry flour, sugar, baking powder and salt. Mix and set aside.
Combine the egg whites, milk and vanilla. Mix well and set aside.
Add the butter to the flour mixture and start to whisk or mix together (if using a mixer). Once a crumbly texture has formed add all but a half cup of the egg whites mixture and continue mixing at high speed for a couple of minutes.
Add in the rest of the egg whites mixture and then mix for another minute or so.
Pour evenly into the prepared pans (I did a little slam on the counter top with mine before putting them in the oven) and bake for about 25 - 30 minutes or until a cake tester comes out of the middle clean.
Cool for about 20 minutes before removing from the pans and then cool completely on a cooling rack before icing.
Buttery Chocolate Icing
adapted from
here
Makes about 1 1/2 cups (perfect for a two layer cake)
2 cups icing sugar
1/4 cup dark cocoa powder
1/2 cup unsalted butter at room temperature and cubed
5 tbsp whipping cream
1 tsp vanilla
Sift together the icing sugar and cocoa powder.
Add the cubes of butter. Using a mixer (or a very good whisk and a fast, strong arm) mix until things aren't dry anymore but quite thick. Add in the whipping cream and vanilla and begin to mix slowly until the liquid is incorporated and then move to a higher speed and continue mixing until the cream starts to thicken up quite a bit (this will take a few minutes). Once the cream has thickened to a nice spreadable consistency then get ready to ice the cake.
Refrigerate after icing the cake.

Archivo del blog

About Me
St Michael's Choir School is celebrating it's 75th anniversary year of service to St Michael's Cathedral. Part of the school celebration is a trip to Italy where our boys from Grades 5 - 12 will be performing and celebrating Mass. This blog will be chronicling our adventures. Wanda Thorne is the Vocal Coach at St Michael's Choir School. Gerard Lewis is the Grade 7/8 Homeroom teacher at the Choir School.
View my complete profile

My Favourite Cookbooks
About Me
Wanda Thorne

St Michael's Choir School is celebrating it's 75th anniversary year of service to St Michael's Cathedral. Part of the school celebration is a trip to Italy where our boys from Grades 5 - 12 will be performing and celebrating Mass. This blog will be chronicling our adventures. Wanda Thorne is the Vocal Coach at St Michael's Choir School. Gerard Lewis is the Grade 7/8 Homeroom teacher at the Choir School.
View my complete profile

Pages