The level of un-inspired today is epic. Oh it's not that I haven't done what's needed to be done. It's just that it got done without any emotional connection. I guess it's what you call 'going through the motions'. I discovered that it's possible to laugh during small talk and then 15 seconds later forget that your facial muscles even moved. It's the kind of day where you forget whether you had breakfast and absentmindedly drink 3 coffee's. It's the kind of day where I know that I'm supposed to say something intelligent and inspired but nothing comes out or that question that you asked me really needs to have an answer with a little more detail than 'ummm - I'll check'.
Kid #1 is cleaning her room - an epic manoeuvre in and of itself. She has currently been working for 30 minutes at putting sheets on her bed and cleaning the floor under it. Good thing she's not responsible for cleaning the whole house. I haven't heard movement in about 12 minutes so I'm guessing that she either forgot what she was supposed to do or she fell asleep. Kid #2 is at karate hopefully undergoing grading for his yellow belt. I have to say hopefully because it's hard to get a straight answer out of him sometimes even when the questions are yes or no answers - Did you hand in your form for grading? So I'm going to keep my fingers crossed and try not to think about what might happen if he doesn't get graded.
The good news is that for almost two days I can forget that I am approaching the worst 5 weeks of the year. I can turn off my alarm and snuggle under the covers until I decide that I don't want to anymore. I can make a morning coffee and sit down at the table with the newspaper, taking my time to read it. Even the 'life' section. I can roll out the yoga mat whenever I want and do it for a whole 1 1/2 hrs if I like. I can see D - maybe even go out with him. We might be able to have a coherent conversation that lasts for more than 15 minutes. It might even be a conversation that doesn't include information about scheduling. It almost makes you giddy or it would if I could feel my soul right now. I'm sure that by about 2:20 tomorrow afternoon I will be able to sense where it is.
Then there are brownies. I'm sure you must be wondering why the two banana recipes in a row. The bananas were just there. Sitting on the counter and I really couldn't be bothered to put them in the freezer with the 6 lbs of turkey from thanksgiving and the other 9 overripe bananas in there. It seemed a little less soul destroying to just go ahead and use them in some baking one time. Then there is the stick-something-healthy-into-something-that-normally-isn't thing. So, when kid #2 pushes the green and red stuff around on his plate but gulps these down like there's no tomorrow then I feel a little less worried and also like I won the Sneaky Mom award (it's not a real thing BTW). I suppose this means that I'm one step away from making chocolate cake with beets in it or quinoa cookies or something. Somehow though, banana just doesn't feel as granola as all that.
I don't know what things are like around your place on friday night and fingers crossed that it's wonderful and you feel profoundly fulfilled. If that is the case then you might just want to cap off that beautiful feeling with the deeply comforting smell of brownies baking in the oven. If your friday night is a little more like mine - the socks you are wearing don't match and your yoga pants are a little dirty and you can't hear your phone ring because the lego is making too much noise - then you might need this easy to make ending to kick start you into the land of weekend.... with my blessings.
Banana Brownies
adapted from
Taste of Home
makes 1 square pan of brownies
1/2 cup unbleached, all purpose flour
1 tsp baking powder
1/2 tsp salt
2 tbsp cocoa powder
1/8 tsp nutmeg
3 overripe banana's, mashed
1/2 cup unsalted butter, melted
2 oz dark chocolate, chopped
1 scant cup sugar
2 eggs
1 tsp vanilla
Preheat the oven to 350° F
Grease and flour a square 9x9 baking dish and set aside.
Add the chopped chocolate to the melted butter and set aside while the chocolate melts.
Combine the flour, baking powder, salt, cocoa powder and nutmeg together. Mix to combine and set aside.
Add the sugar to the butter, chocolate mixture and mix well.
Add the eggs and whisk until incorporated.
Add the vanilla and mix well.
Add the flour to the chocolate mixture. Mix or whisk until combined and there is no dry flour left.
Pour into the prepared pan and distribute evenly.
Bake for about 30 minutes (they should still be just a little gooey when tested in the middle... every so slightly gooey)
Cool completely before cutting.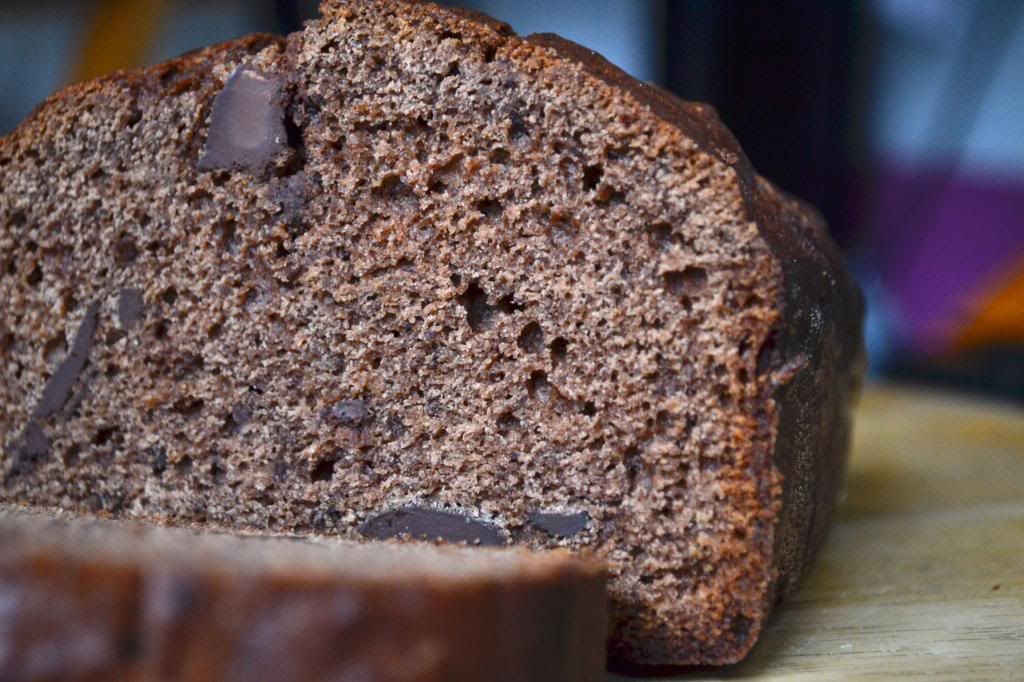 It seems odd that with all of the baking that I haven't been doing, the one night of the year that I stress myself out just a little by baking is Hallowe'en. The very night that my kids get more candy and chocolate than they could possibly deserve and most definitely more than they can get through. And there I am, baking chocolate banana bread.
I'm sure that you've heard of my bah-humbug sort of attitude towards most holidays and hallowe'en is no exception. I'm not anti-hallowe'en by any means either. It's an odd sort of balance that I manage to strike where I kind of care about some details and absolutely don't care about others. I don't think that hallowe'en is something to be afraid of and avoided. I only wish that maybe it was seen in a more traditionally mystical and creepy whole. The coolest thing about Hallowe'en is that it's really about protecting yourself from evil spirits. Warding them off by dressing as them. Hallowe'en is followed directly by All Saints in which the saints and even saintly are remembered and sometimes venerated. All Saints is followed on November 2nd by All Soul's Day where those gone before are remembered - in some countries candles are laid by their graves and an extra place is set at the table for them. I suppose it birthed from ancestor worship but it's kind of creepy, weird and cool. Hallowe'en would make a whole lot more sense if it were widely considered part of the trilogy of Oct 31/Nov 1/Nov 2. But, it's not. Probably because some retailer couldn't think of a way to make enough money off of candles to push a serious marketing campaign. Now hallowe'en has been reduced to kids going from door to door holding out a bag to get candy dumped into and naughty nurse costumes.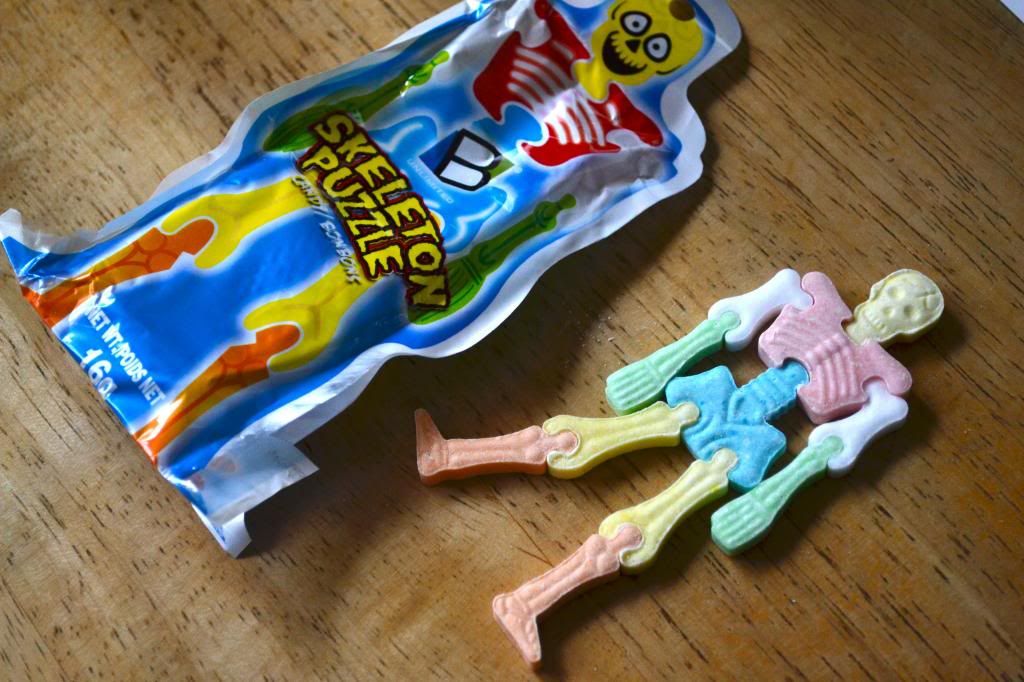 Really. This is as creepy as it gets.
We take Kid #2 out for his jaunt up and down our street. Kid #1 is old enough now that she is doing her thing with her friends and has a curfew of 9pm (!) We've always been the kind of couple who needs full support for each other in these situations so we don't go in for one of us sitting at home sipping mulled wine and handing out chocolate while the other wades through the trenches of the populated sidewalks. Nope - we do it together. The lights at our house go out and we leave, taking out Kid #2 and having each other to lean on. Once kid #2 gets bored (which thankfully seems to occur after about 45 min) we head back home. Kid #2 sorts and counts the candy, D takes his coffee crisp tax from each bag and we sit back and have a beer (or two) while we wait for Kid #1 to come home and start the sorting and tax taking process all over again. Beer helps.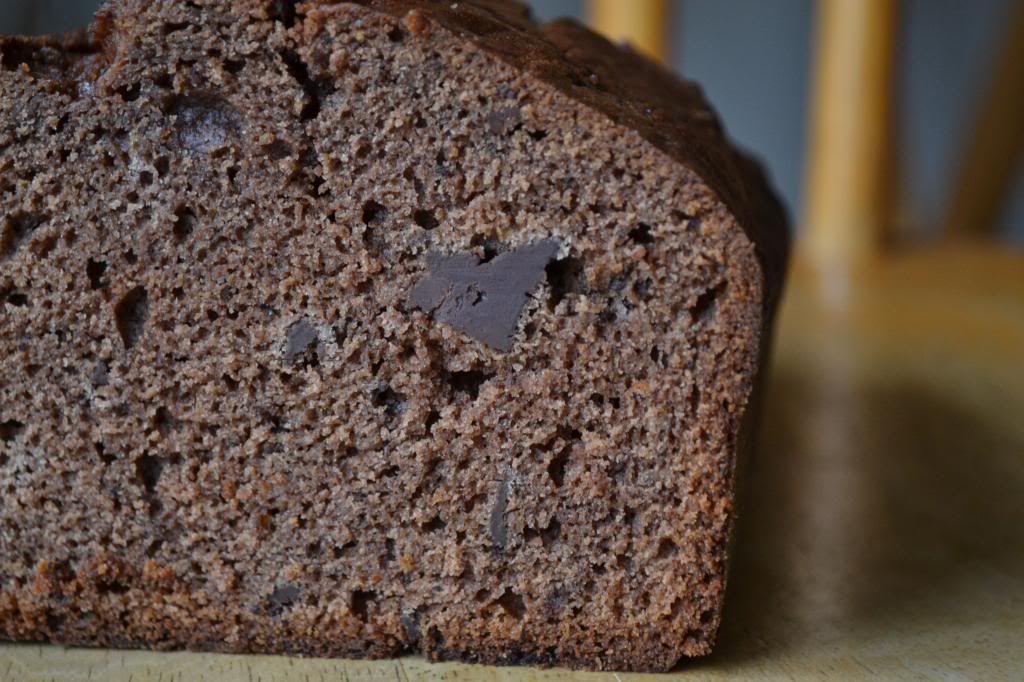 The next day (All Saints), Kid #2 was heading off with his class to
The Royal Winter Fair
and Kid #1 was just going to school. My kids were probably the only ones that day who showed up with homemade banana bread for lunch instead of 4 crispy crunch's, 2 cheesy goldfish pkg's and 1 jolly rancher but they didn't complain. I went out and bought some candles.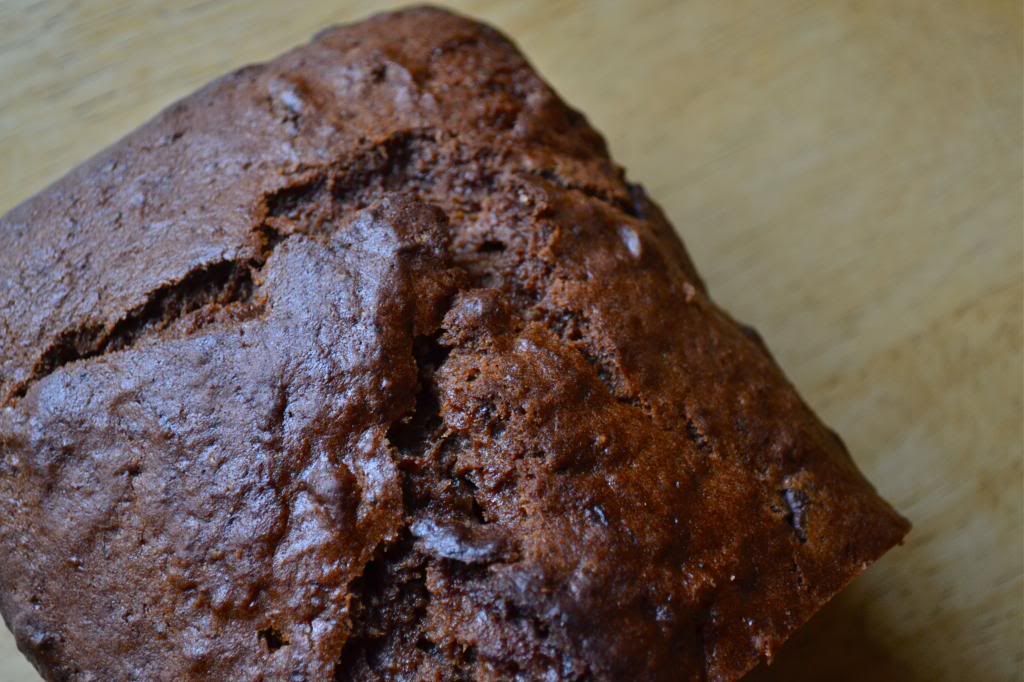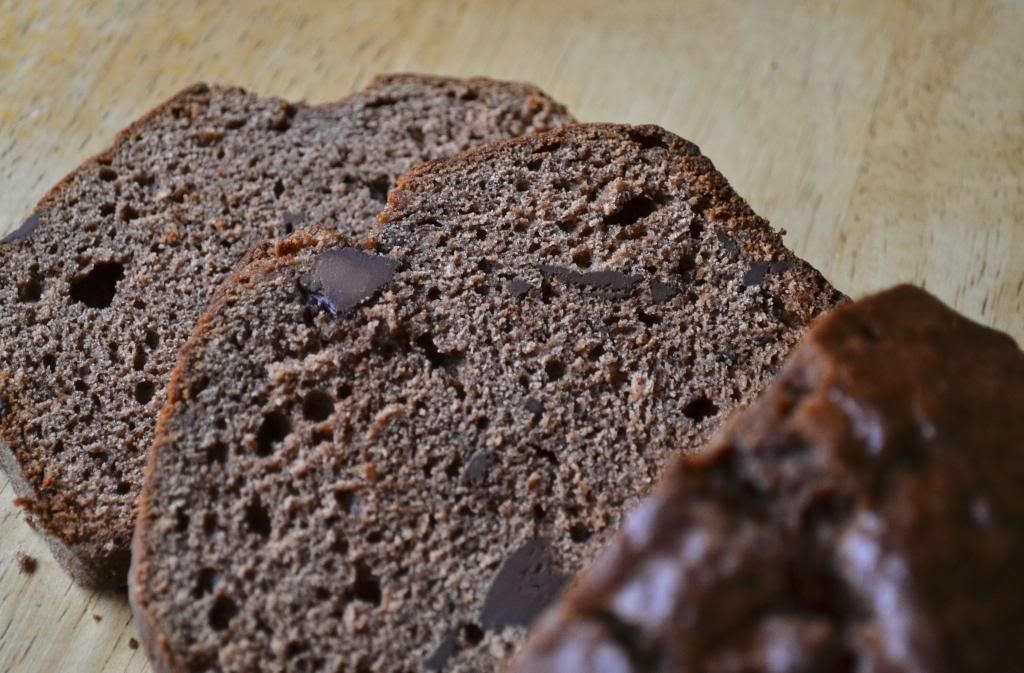 Chocolate, Chocolate Chunk Banana Bread
adapted only a little from
Joy of Baking
1 3/4 cup unbleached, all purpose flour
1/4 cup cocoa powder
1 tsp baking powder
1/2 tsp salt
1/4 tsp baking soda
3 - 4 (about 1 1/4 cups or so) overripe banana, mashed
1 cup sugar
2 lg eggs
1/2 cup butter, melted and cooled slightly
1 tsp vanilla
3/4 cup dark chocolate chunks (white chocolate is an option here)
Preheat oven to 350°F
Butter and flour a large loaf pan and set aside.
Sift together the flour, cocoa powder, baking powder, salt and baking soda into a bowl and set aside.
In another bowl, combine the mashed banana and sugar. Mix well so that the sugar disintegrates into the banana. Add the eggs and whisk together until well combined. Add in the butter and vanilla and mix to combine.
Add the flour mixture and whisk until the flour is completely mixed in.
Fold in the chocolate chunks.
Pour the batter into the prepared pan.
Bake for about 55 - 60 min or until a cake tester comes out of the middle clean.
Cool for about 5 minutes in the pan and then remove to a cooling rack.
Slice and feed to your kids.

Archivo del blog

About Me
St Michael's Choir School is celebrating it's 75th anniversary year of service to St Michael's Cathedral. Part of the school celebration is a trip to Italy where our boys from Grades 5 - 12 will be performing and celebrating Mass. This blog will be chronicling our adventures. Wanda Thorne is the Vocal Coach at St Michael's Choir School. Gerard Lewis is the Grade 7/8 Homeroom teacher at the Choir School.
View my complete profile

My Favourite Cookbooks
About Me
Wanda Thorne

St Michael's Choir School is celebrating it's 75th anniversary year of service to St Michael's Cathedral. Part of the school celebration is a trip to Italy where our boys from Grades 5 - 12 will be performing and celebrating Mass. This blog will be chronicling our adventures. Wanda Thorne is the Vocal Coach at St Michael's Choir School. Gerard Lewis is the Grade 7/8 Homeroom teacher at the Choir School.
View my complete profile

Pages