I hate apologies but I feel that I must apologize for what must feel to you like yet another mindless-fluff-post from me. I'm getting to serious things I promise. I'm reacquainting myself with how I feel about the world. I'm reading again and that's always a good sign. I've been getting more than 4 hrs sleep a night since I've been back and that's a good thing too. Despite that though, between all the crazy shit going on in the world and my own semi-permanent 'fuzz', the week has felt scattered and off at best. Nothing has stayed in my brain long enough to congeal into something even close to custard or jello let alone concrete. So again, you are going to get some fluffy, random, scattered, possibly weird, hopefully mildly amusing thoughts.
This is the first thing
that I downloaded upon arriving back in Canada... and I mean I downloaded it in the airport. Serious. (I had a conversation with someone while away about music. Yet another person who only listens to music to drown out white noise in the car on the way to work. What? I can't even begin to understand - I will try)
This is the second
and by far the best for me. It's blowing me away right now... all of it.
These songs got me through some very strange bus rides through Italy and some beautiful views.
Some of my Hero's (They would must certainly cringe at my vocabulary) are going to be speaking at
this conference
that I'm going to. I'm beyond excited. It's like they're rock stars to me. And I'm weird.
Oh really
? For #$%@ sake.
I can't find word to express how much doing this on my lunch hour helped me get through the rest of the day and, in fact, the whole week.
In case you were wondering, not only did D and Kid #1 and #2 manage just fine without me around, D and I have subsequently had a conversation about me backing off more at home and giving him some more space with the kids and in the kitchen. Shizam. I took the opportunity to go out for a drink after work the very next day.
I seriously need to update my favourite blogs because honestly there is nothing that
this blogger
writes that I couldn't get behind 100% right now and
this blogger
makes me laugh out loud often.
I saw
this 'salad'
and nearly fell off my chair. I have to make it... but not as salad.
I've always
suspected this about cupcakes
. Haven't you? There is something so rightly wrong about them. They're aw'some'ful... I kinda want one right now. But not really because....
Oddly, since I left Canada up to now - even now - I've been watching my sugar and chocolate appetite decline significantly. I don't know why but I'm rolling with it. If I don't feel like eating sugar or chocolate then I don't eat it. This may be temporary or not. Who cares. What I do feel like eating are eggs. I ate eggs almost exclusively when I got back. Two meals a day. Eggs with toast. Eggs have to be sunny side up and the yolks have to be runny. The eggs must be sprinkled with a little salt. Today I ate eggs (sunny side up of course) over spinach with a little cheese and some tomatillo salsa that I made last summer. I'm swapping out chocolate for eggs.
In my attempts to stretch a dollar and sneak lentils into a meal without D noticing - which incidentally did not work because as soon as he tasted it D said 'This tastes beany' (jeez) - I created this twist on my usual Cottage Pie or Shepherd's Pie or whatever the hell you want to call it because there is some kind of rule out there about what you are supposed to call it when it's pork or beef or lamb or lentils or tofu. I don't care... I thought it tasted good - maybe only slightly beany.
Lentil and Pork Cottage Pie
serves 4 - 6
1 cup Puy Lentils (the tiny dark ones)
4 cups water
3 tbsp Worcestershire sauce
2 tbsp soy sauce
2 tbsp mixed herbs
1 tbsp honey
1 veggie boullion cube
1 lg clove garlic, coarsely chopped
2 tbsp ketchup
1 lb ground pork
1 med/small onion, diced
2 carrots, thinly sliced
1 cup corn
1 cup peas (you could use frozen green beans or something if peas aren't your thing)
For the Mash Topping:
5 -6 sm potatoes (3 - 4 if using med/lg) cubed
2 cups celeriac, cubed
1/4 cup milk
1/4 cup butter
1/2 cheddar or fontina cheese, shredded
1 tsp salt
Day before:
Combine the lentils, water, Worcestershire sauce, soy sauce, honey, veggie bouillon, garlic and ketchup together in a heavy bottomed sauce pan. Bring to a boil and then simmer for about 1 hr. Cool and leave in fridge overnight to marinate.
Next day: Warm them up again and then throw them into a blender or use an immersion blender to puree them to the texture of goop - oatmeal kinda goop... not sure what other word I would use here.
Simultaneously:
1. Preheat the oven to 350°F
2. Throw the potatoes and celeriac into a large pot of water and bring to a boil for about 10 - 12 minutes (or until softened)... then drain. Mash well and add in the butter, milk, cheese (reserve a little cheese to sprinkle on top of the casserole at the end) and salt. Check the tastes, adjust and set aside.
3. Heat a heavy bottomed dutch oven or caste iron (oven proof) casserole dish over med. heat. Once heated add about 3 tbsp of oil or lard and throw in the onion, garlic and carrot. Cook together for about 5 minutes and then add in the ground pork. Cook together for another 5 minutes and then turn the heat down to med/low. Add in the ketchup and the pureed lentil mixture. Check the tastes and adjust if necessary (maybe a little salt or add a little water if it's too thick for example). On top of the meat/lentil mixture place the corn and peas. On top of the corn and peas spoon the potato/celeriac mixture so that it totally covers everything underneath. Sprinkle with a little cheese on the top.
Bake for about 30 - 35 minutes or until you see that the meat mixture is bubbling up the sides a little and the top is turning golden.
Cool for about 15 minutes before serving.
Things you learn when in Rome with 180 Boys:
1. Food tastes amazing (no matter what it is) when all of those boys are in bed.
2. You can see up to six sights in Rome and squeeze gelato into a 1hr 15 minute cab ride if that's all the time you've got.
3. A uniform consisting of only 4 shirts for 12 days of travel makes for interesting odour combinations.
4. Lines consisting of more than 6 people are impossible. IMPOSSIBLE.
5. Gelato does not universally taste good (see number 1).
6. People who think it's fun to get out their decibel meter App during dinner are annoying.
7. Sometimes yoga pants are necessary for survival.
8. Even if you are at the Vatican Tourist shop, boys will find the only toy car in the place and fight over it.
9. No matter what wonderful sights the boys get to see, their favourite will always be seeing the eagle killing a mouse at the side of the road.
10. It is possible to need some distance from your best friend 'penne' once in a while.
11. There are definitely moments when the only way to keep your sanity is to just start laughing. It prevents crying, or sometimes facilitates it but it's always better to be laugh/crying than just crying.
12. Sometimes, even though you ask everyday for boys to brush your teeth, they still don't tell you until Day 8 that they left their toothbrush at home.
13. It's all fun and games until someone loses a passport.
14. Even though they tell you it looks like cat food, if they're hungry enough boys will eat foie gras.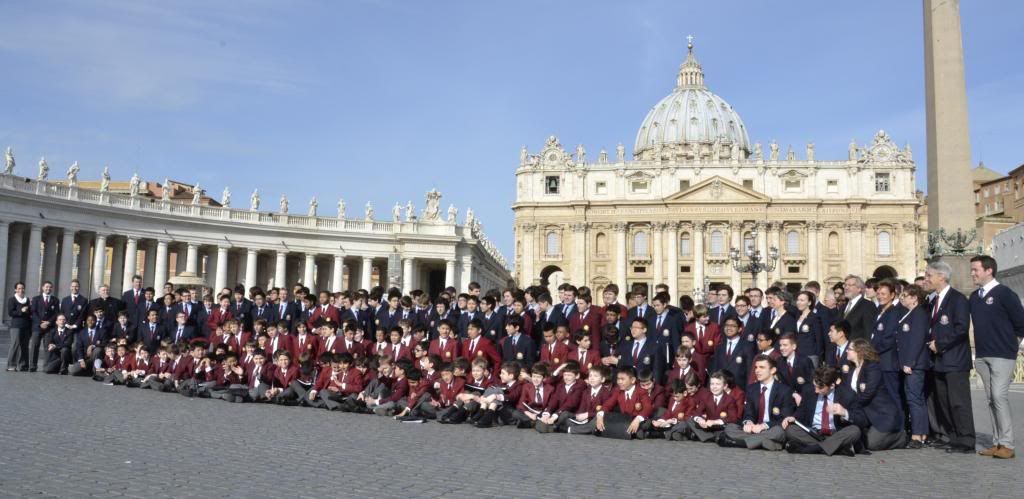 This is all of us. Boys Gr's 5 - 12 and Chaperones. Yikes.
There were many times that I indulged heavily in number 11 and number 7 - although I always had this twinge of 'I've-totally-given-up-now' - and the jury is out as to how long penne and I might be on the 'outs'. I made this curry before I left because I knew that I wouldn't be eating any curry while I was away and because it's one of the easiest and most satisfying things I could think of doing.
Beef Curry
adapted from Naparima Girls High School Cookbook
serves 6 - 8
2 lbs beef (stewing beef or leftover roast), cubed
1 med. onion, sliced
2 cups carrots, thickly sliced
1 cup turnip, cubed (optional - opt for more potato if you don't have the turnip)
2 - 3 cups potato, cubed (about 3 med/lg potatoes)
3 - 4 cloves garlic, crushed
3 1/2 tbsp mixed herbs (parsley, chive, oregano, mint, thyme, marjoram - stay away from tarragon or dill)
2 1/2 tsp salt
5 tbsp west indian curry powder (or curry powder of your choice)
2 - 3 tbsp Worcestershire sauce
2 tbsp soy sauce
2 tbsp honey
4 cups good quality beef stock
pepper sauce to taste
Use a large, heavy bottomed dutch oven and heat over medium heat.
Add about 3 - 4 tbsp of oil or grease to the dish.
Add in the onion, carrots, turnip and potato and let it cook in the oil for about 5 minutes. Stir frequently to prevent sticking or burning.
Add in the meat and the garlic and continue to cook for another 5 minutes.
Meanwhile, in a bowl add the mixed herbs, salt, curry powder, worcestershire sauce and soy sauce together until it forms a paste (add a little water if needed)
Add the paste to the meat and veggies and mix well. Turn the heat down to med/low and add in the beef stock and the honey. Stir until well mixed. Cover and simmer for about an hour over low heat.
Check the tastes and adjust (i.e. add pepper sauce) if necessary.

Archivo del blog

About Me
St Michael's Choir School is celebrating it's 75th anniversary year of service to St Michael's Cathedral. Part of the school celebration is a trip to Italy where our boys from Grades 5 - 12 will be performing and celebrating Mass. This blog will be chronicling our adventures. Wanda Thorne is the Vocal Coach at St Michael's Choir School. Gerard Lewis is the Grade 7/8 Homeroom teacher at the Choir School.
View my complete profile

My Favourite Cookbooks
About Me
Wanda Thorne

St Michael's Choir School is celebrating it's 75th anniversary year of service to St Michael's Cathedral. Part of the school celebration is a trip to Italy where our boys from Grades 5 - 12 will be performing and celebrating Mass. This blog will be chronicling our adventures. Wanda Thorne is the Vocal Coach at St Michael's Choir School. Gerard Lewis is the Grade 7/8 Homeroom teacher at the Choir School.
View my complete profile

Pages