One of the best things I've done all week is make this stuff. I've done other good things too don't get me wrong but this casserole is right up there with the best. It certainly is the best thing I've done with cauliflower in a good long while.
Being on spring break this week and surrounded by my kids and sometimes other people's kids too, I've been thinking a lot about parenting lately. I've been giving a lot of thought to the way parenting changes as kids get older. I'm ninety three percent convinced that my twelve year old has decided that it's her goal in life to make us crazy but she's not going to win that one. She doesn't know who she's dealing with. Reality is that she needs me to be a completely different parent than my six year old does. Neither role I feel totally equipped to do well and if most of the parent model's I'm seeing are the 'right way' then I'm in big trouble. I believe that the real issue here is that I don't really care. I know what it is I'm supposed to be and it's not realistic nor is it any kind of recipe for success. I'm pretty happy with the way things are. We have one night during the school week when both kids have an activity. The activity for both of them falls on the same night. Kid #1 is carpooled for part of her activity so we're off the hook once she's been dropped off. Additionally, Kid #1 has dance and piano which, for the most part happens on Saturday mornings and if it doesn't happen on Saturday then we're probably not going to do it. D and I both work in the evenings after 'work' and there are many occasions where I have to be in to work on one day over the weekend. We can't fit any more activities in without some serious juggling around.
Then there is the park stuff which I endure in the summer only because it's warm outside and I can sit off by myself being most antisocial, reading and sipping something cold. When it's not warm we don't go. I despised Mom and Tot groups when my kids were babies because they felt like they weren't for the kids at all but the parents. The parents seemed to feel like we all deserved a collective pat on the back for our efforts towards socializing six month old people. Nope - didn't last long and I didn't once feel bad about it.
I don't freak out if my kids didn't get outside over the course of a day. I don't freak out if they didn't eat as well as I would have liked. I don't freak out if they haven't finished homework or practiced piano. I freak out a little if they spend too much time in front of a computer screen but even then it depends on what they're doing in front of that screen. D and I have flatly refused to ever take Kid #1 camping because we don't camp. I've never once held a birthday party in one of those places where there are games and lights and noise and awful pizza because I can't deal with it - I want to curl up in a corner, close my eyes and fall asleep just thinking about it. I miss the days where we could just let our kids hang out outside until it got dark and we could do it without needing to sit out there watching them in order to be 'good' parents. I need time away from them although I feel a little guilty when it happens. I try to make sure that I take it whenever I can though - even if just for a couple of hours.
Craziest part is that I don't think my kids are suffering at all. In fact, they seem to be pretty well adjusted so far. Sure I wish that they did a little more of this and a little less of that but mostly they're doing ok. We're not pushing them to be at the top of their class but neither are they failing or even seriously struggling with anything. They enjoy their friends and they aren't unhappy to be alone. It's weird.
So this week, when D and I ended up being the only ones who dug into this cauliflower casserole, I didn't freak out 'cause they weren't trying it. We told them that they were missing out but didn't force it down their throats. They really did miss out but what it meant was that we got to eat it all. I can live with that.
Cauliflower Casserole
adapted from '
Give Recipe
'
serves 6
1 head of cauliflower (about 4 cups) broken into medium sized pieces
slice of lemon
1 lb ground beef, pork or lamb
1 onion (1/2 cup), diced
3 cloves garlic, crushed
1/2 - 3/4 cup red pepper, diced (I used roasted red pepper from the freezer)
1 boullion cube (veggie or whatever)
1 1/2 tbsp mixed herbs
2 tbsp honey
1 1/2 tsp salt
2 tbsp Worcestershire Sauce
1 tsp pepper sauce (optional)
1/4 cup tomato paste
2 - 3 tbsp water
1 1/2 cups mozzarella cheese
Place the cauliflower pieces in a large pot of water. Bring to a boil and add the lemon slice. Boil for about 7 minutes or until the cauliflower is just beginning to soften. Drain and set aside.
Preheat the oven to 350°F.
Heat a heavy bottomed pot over medium heat. Add a little oil and then add in the onion and garlic. Cook for about 1 minute and then add in the ground meat. Turn the heat down a little and cook together for about 4 minutes or until the meat begins to brown. Add in the red pepper and veggie bouillon. Cook for another 4 - 5 minutes. Add in the herbs, honey, salt, Worcestershire, pepper sauce tomato paste and water. Mix well. Continue to cook for another 5 minutes. Check the tastes and adjust if necessary.
Place the cauliflower into a deep baking dish (I used an 8 inch round) and sprinkle about half of the mozzarella on top of the cauliflower. Pour the meat mixture on top of that and sprinkle the remaining mozzarella over the top.
Bake covered for 20 minutes. Remove the cover and bake for another 15 or until the cheese begins to bubble and brown.
Cool for a few minutes before serving.
I'm sitting in front of the screen waiting to be inspired. I decide to start reading some blogs that always do just that. I read for a few minutes then decide I should just upload my pictures and start dealing with them so that once I finally write this post I won't have to fiddle with the pictures. Then I think 'That's dumb - the pictures are the easiest part'. I go back to the blog but a few minutes later find myself almost involuntarily inserting my camera's memory card into the computer slot. And around we go.
I'm all over the place. I'm making the adjustment to not having to hustle out the door except I don't want to truly adjust because it's only a week off and then I'm readjusting. Trust me when I tell you that adjusting to a more relaxed schedule is a lot easier than the adjustment back. Ick. I managed to get myself together enough to meet up with KT for lunch. Still not enough time (for me) but it's a start. We got to catch up a bit finally. Up until about 24 hours ago I hadn't cooked anything in a few days. DAYS. What does that tell you. I'm slowly catching up but honestly I think that I've needed to fall apart just a little.
The thought of having to plan a March Break getaway makes me nearly apoplectic. However, I'm not sure if it's worse having to deal with two kids asking you each day (and possibly multiple time throughout the course of that day) whether 'we're going to do anything fun today'. 'Since when is doing nothing NOT fun' I ask. And around we go... March Break.
I'm going to use this week to get back into some kind of running routine because now there are clear sidewalks and the temperature is such that my brain doesn't shutdown when I look outside. I'm going to take in my poor bike that has gotten me through another winter... but barely. Poor baby needs some TLC so badly it's not even funny. While I'm getting my bike seen to (
this is a great shop
BTW) at the shop, I'm going to start a conversation about commuter bikes. Shudder. I know that they were made for people like me who ride everywhere and all the time (ie. through rain and winter). They make so much sense... but they're so lame looking. I gotta get over it and then I've gotta scrap up the dough. I'm also going to contact my tattoo guy about #2 because I've already got an idea for #2 and #3 and I'm just going to do it. I need some pain in the very best way.
With the kids... maybe we'll go to the theatre... maybe we'll just rent. We've already gone out once for dinner so that's covered. We've booked a possible play date and we've got a dentist appointment. I'd say that if we get to the bookstore and maybe out into the ravine for a good long walk that we've covered some decent parental duties.
When it come to food I'm pretty relaxed this week. I'm going to venture into sour dough bread but only just a little. I'm making some beef stock with bones, meat and marrow and of course a few veggies thrown into the pot. I did something spectacular with cauliflower that surprised even me - you'll be getting that post next. I made these beauties. They're all cheesy and green and square like. I'm trying to convince myself that they're like a savoury custard bar.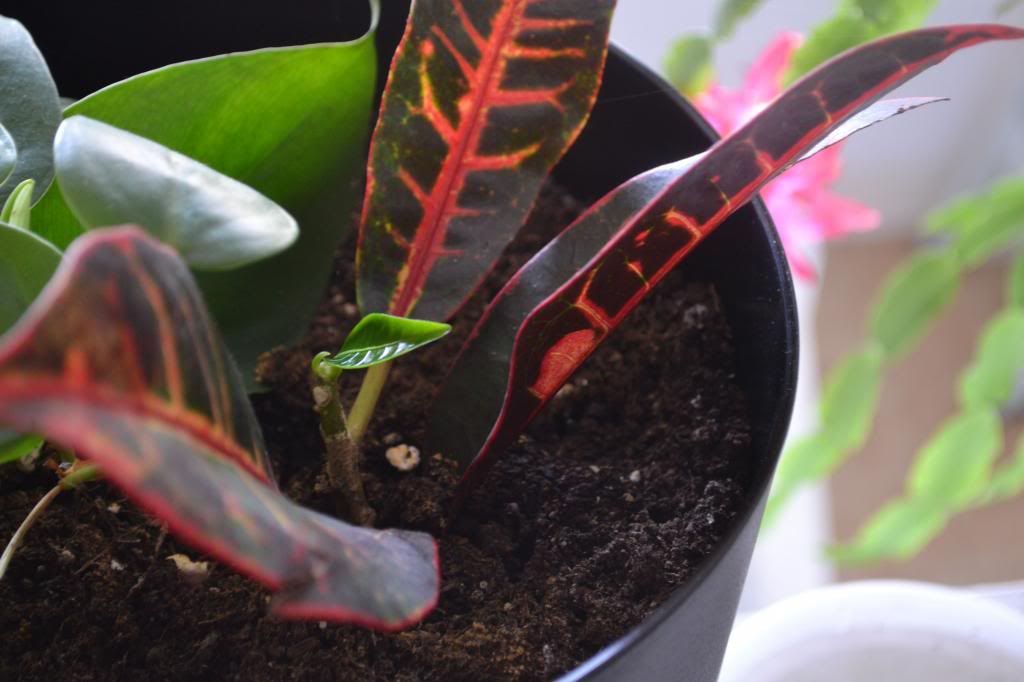 The plant that was taken out of the basket that my school sent us for my Father-in-law's Memorial is finally starting to get some new leaves.
Spinach, Kale and Feta Squares
adapted from '
Almonds and Raisins
' by Evelyne Pytka
makes 1 9x9 inch pan of squares
1 cup whole wheat flour (I used Red Fife but any whole wheat flour will be fine)
1/2 cup unbleached, all purpose flour
1 1/2 tsp salt
6 - 7 tbsp cold butter or lard or a combination, cut into small cubes
1/2 - 3/4 cup cold milk
1/2 cup onion, chopped
3 cups spinach, chopped
3 cups kale (I used Cavolo Nero), chopped
1 1/2 tsp salt
2 tbsp dried mixed herbs (I used parsley, basil, oregano, marjoram and rosemary)
1/2 tsp nutmeg
1/2 tsp paprika
1 egg
4 egg whites (or just use 2 more eggs)
3/4 cup plain yogurt
3/4 cup milk
1 tbsp honey
2 tsp dijon (or dried mustard powder)
dash of Worcestershire
dash of pepper sauce (optional)
1 cup feta, crumbled
1 cup cheddar (or any melty cheese), shredded
Preheat oven to 350°F.
Butter or lightly grease a 9x9 baking dish and set aside.
Combine the flours, salt and 6 tbsp's of butter or lard. Using a pastry cutter or two knives cut the mixture together until it forms a crumbly texture. Use the extra tbsp of butter if necessary. Add enough of the milk to form a dough that will stick together when you try to form a ball in your hand.
Pour everything into the baking dish and pat down using your fingers until it is pressed into the bottom fairly evenly throughout.
Bake for about 15 minutes or just until the dough has baked together but hasn't gotten browned. Set aside to cool slightly.
Remove from the oven and turn the oven up to 375°F.
Meanwhile, heat a heavy bottomed sauce over medium heat. Add a little oil to the pot and add in the onion. Stir for a minute or so and then add in the spinach and kale. Turn the heat off immediately and remove from the heat. You just want the greens to wilt, not really cook. Once wilted add in the salt, herbs, nutmeg and paprika. Mix well.
In a bowl combine the egg and egg whites (or just all the eggs) and whisk for a couple of minutes by hand. Add in the yogurt and milk and mix. Add in the honey, dijon, Worcestershire and pepper sauce. Whisk until combined.
Place the greens evenly over the baked crust. Sprinkle the feta and cheddar evenly over that. Pour the egg mixture over the top of everything and spread evenly. Sprinkle with a little parmesan cheese if you would like.
Bake for about 30 - 35 minutes or until everything has browned nicely on the top and the centre feels fairly firm to the touch.
Cool for about 10 minutes before cutting.

Archivo del blog

About Me
St Michael's Choir School is celebrating it's 75th anniversary year of service to St Michael's Cathedral. Part of the school celebration is a trip to Italy where our boys from Grades 5 - 12 will be performing and celebrating Mass. This blog will be chronicling our adventures. Wanda Thorne is the Vocal Coach at St Michael's Choir School. Gerard Lewis is the Grade 7/8 Homeroom teacher at the Choir School.
View my complete profile

My Favourite Cookbooks
About Me
Wanda Thorne

St Michael's Choir School is celebrating it's 75th anniversary year of service to St Michael's Cathedral. Part of the school celebration is a trip to Italy where our boys from Grades 5 - 12 will be performing and celebrating Mass. This blog will be chronicling our adventures. Wanda Thorne is the Vocal Coach at St Michael's Choir School. Gerard Lewis is the Grade 7/8 Homeroom teacher at the Choir School.
View my complete profile

Pages