Happy Spring.
It's the first day of spring. Here in Toronto, Spring has been welcomed in with a few days of cold temperatures and off and on snow flurries. I hear in Montreal they still have about 30 cm of snow so I'll keep my complaining at a minimum. The imminence of Easter though seems to bring with it the expectation of warmer temperatures. In that we've been very disappointed, frustrated and even cranky.
I remember one of my first couple of Easter's in Montreal a friend invited me to the Easter 'Sunrise' Service on easter morning. It sounded interesting and there was a pancake breakfast afterwards. Either way my friend T and I found ourselves standing on Mount Royal in Montreal at 6 a.m. that particular Easter morning.
We were freezing our asses off because it must have been about -10C at the time and while we were standing (for the entire service!) to add insult to injury... it started to snow. We were both miserable although T is much better natured than I am about those things and he put on a brave face and faked his way to friendliness. Neither one of us knew liturgy very well back then. So when one of the lay-leaders (someone who doesn't get paid for their work) shouted 'Christ is Risen!' at him he didn't know what to do and she was standing there watching, waiting, anticipating a response. We both looked at each other confused and finally he blurted out 'Hallelujah'. Not missing a beat, our fearless lay-leader shot both of us a frustrated and angry look and snapped 'No - It's
He is Risen Indeed
'. She taught us. That was it though. I had stopped even attempting to hide my crankiness and poor T snapped once he got that response. Pancake breakfast or no, we left. Bolted. Found warmth at the closest spot that we could find and then made our way home to make better pancakes than we would have had in the church basement. Not my best Easter but we made lemonade out of them lemons.
We've all been so sick of winter - the cold, the snow, the damp, the cloudy - that we made our way to the west indian store last week and picked up some much needed ingredients. We made it a family trip and got a lot of pleasure out of walking the isles looking at foods that reminded us of a warmer, sunnier place. West Indian curry powder, salt fish, dasheen leaf (recipe to follow in the next post),
Apple J
, coconut milk and pigeon peas... yup we got it all.
Then we made our way home and I started making some stewed pork. In Trinidad it's much more common to make stewed chicken. A typical Sunday lunch is stewed chicken, callalloo (recipe coming with the dasheen leaf) and
macaroni pie
. This time around I went for cubed pork instead of the chicken and we opted for plain rice instead of the macaroni pie. It was fantastic and brought a little bit of sunshine to our cold, cranky, almost-easter-and-disappointed selves. If you don't want to use that much meat please feel free to halve the quantity but you could easily use the same amounts for everything else just add less water to the marinade.
Trini Stewed Pork
adapted from Naparima Girls School Cookbook
serves 8 - 10
Marinade
4 tbsp mixed herbs
5 cloves garlic, crushed
3 tbsp apple cider vinegar
4 tbsp Worcestershire Sauce
4 tbsp Soy Sauce
3 tbsp sugar
3 tsp salt
2 tsp pepper sauce (or 1/2 tsp cayenne)
1 boullion cube
water
3 - 5 lbs pork (any cut, including the cheaper cuts like shoulder), cubed
1 med onion, sliced
5 - 6 carrots, coarsely chopped
1/3 cup brown sugar
3 tbsp butter or lard
2 cloves of garlic, peeled and whole
2/3 cup ketchup
1/2 cup coconut milk (optional)
2 scotch bonnet peppers, whole - do not cut
salt to taste
Combine the herbs, garlic, apple cider vinegar, Worcestershire sauce, soy sauce, sugar, salt, pepper sauce and boullion cube together in a large bowl. Add in the cubed meat and enough water to just barely cover the meat. Stir and marinade together for anywhere from 1 - 8 hours (even overnight if you wish)
Heat a large, heavy bottomed dutch oven (big enough to hold all of the meat) over med or slightly higher heat until the pot is quite hot. Add the brown sugar and the butter or lard to the pot. Cook together until the brown sugar begins to melt. Add in the whole garlic cloves. You can remove the garlic cloves now if you wish or keep them in - up to you. Once the sugar begins to get dark (chocolate coloured dark) then turn the heat down a bit and add in the carrots and the meat - you might want to add in stages so that the pot doesn't cool down too much. Once everything is added in and the meat has browned a bit add in the marinade liquid. Bring to a low simmer. Add in the ketchup and the coconut milk (I did not add it to mine). Mix well.
Before covering the pot add the set the scotch bonnet peppers on top of meat but don't stir in. Cover and lower the heat to just barely keep things simmering. Cook for about 1 1/2 hrs. The meat should be quite tender. Check the tastes and add salt if necessary.
Serve with a big bowl of callalloo and some rice or macaroni pie.
I'm going to Italy. I don't think that I've mentioned this yet. Maybe I have. I am not in Italy presently. I am not leaving for Italy tomorrow. I will be gone in a couple of weeks. I would love to tell you that I'd be idling around Florence and Rome for two weeks on the prowl for the best coffee and gelato but that is not the case. I wish that I were telling you about the red
Vespa
that would transport through the narrow streets of Rome. Nope - that's not happening either. Although I'm not a big fan of biscotti in the afternoon, I am a fan of red wine in the afternoon but there won't be much of that happening either. Instead, I'll be running around Florence and Rome with an entourage of about 250 of us most of whom are under the age of 18. I will be one of the chaperones for these fine gentlemen - yes, they are all boys. I will also be helping to prepare some of the soloists for the Mass that will be held at St Peter's with Pope Francis. Hmmm - red wine in the afternoon with my red Vespa parked just off the terrace sounds much more fun.
With my trip only a couple of weeks away I am already thinking ahead for this blog. I don't want to bore you all with two weeks straight of pictures from Italy and complaints about how many times 12 yr old boys complain about being hungry and needing to go to the bathroom. I've spent the later part of this week and most of the weekend (well not most) cooking, baking and taking pictures. I want to start getting ahead of things so that I've got some good stuff to give you when I'm away. As a result of my kitchen plotting I didn't get my bike into the bike shop for it's tune-up. That will be for next weekend. I also didn't get around to getting my next tattoo arranged. Maybe that's for next weekend too - I have been fawning over
these one's
though. I'm not going to feel bad even for one minute about not cleaning my bathroom.
I've got some gorgeous blueberry squares coming and some Trini food in the pipe as well. I've got faint plans to do something with this cauliflower crust pizza thing before winter is completely over with. I spied this cornmeal casserole thing that looks interesting too. Chicken potstickers. Yeah - there are a lot of plans floating around in my head.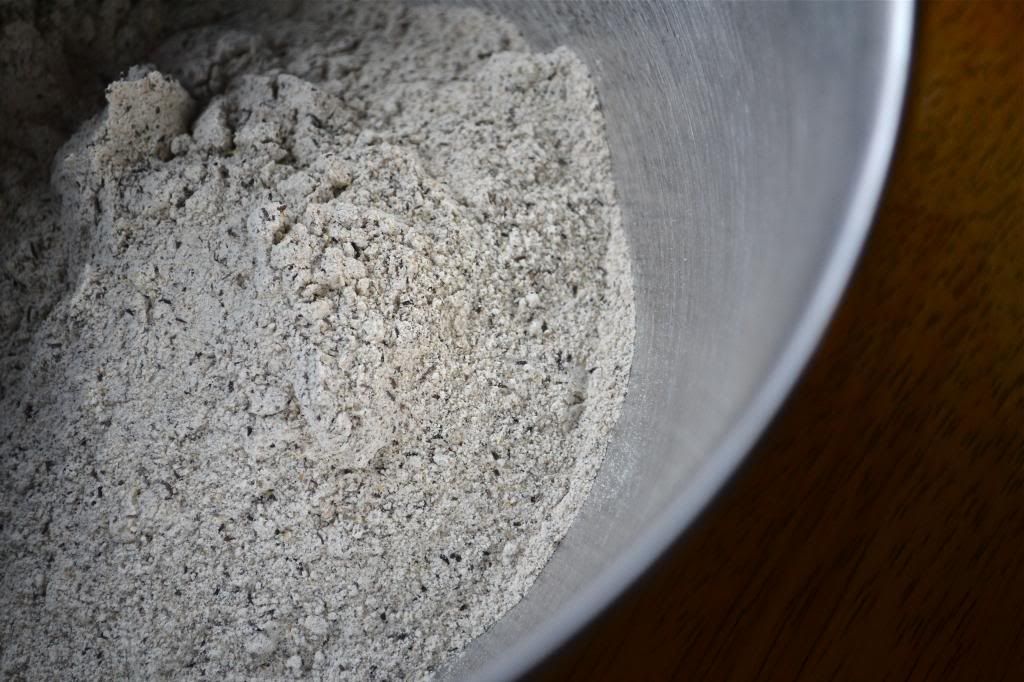 Buckwheat flour has these dark specks - so beautiful.
One of the first things that left the kitchen this week were these muffins. They did not stick around for long but mostly because I shared. It happened to be playdate day for both Kid #1 and #2 so I shared with each family involved. I made these with orange juice and orange zest which I decided - once I tasted the zest in the batter - that I don't really like. I would leave it out next time. The recipe itself called for persimmon pulp which I didn't have so I just replaced it with buttermilk (and orange juice) and things turned out quite fine. They are pretty chocolatey and rich so sharing was perfect here because a little goes a long way. I'm going to point ever so gently to the sentance earlier in this paragraph where I mentioned 'playdate' and refer you to my
previous post
where I talk about my parenting philosophy. We had an afternoon and evening of 'playdates' happening in the middle of our March Break week. Both D and I felt like stellar parents and celebrated ourselves heartily afterwards... and we survived BTW.
Whole Grain Chocolate Muffins
adapted from 'Good to the Grain'
makes about med/lg 13 - 15 muffins
1 cup buckwheat flour
1 1/2 cups unbleached, all purpose flour
1/4 cup + 2 tbsp cocoa powder
2 tsp baking powder
1 1/2 tsp instant espresso powder
1 1/2 tsp salt
1/2 tsp baking soda
3 oz unsalted butter, soft or almost room temperature
1/2 cup brown sugar
1/3 cup sugar
2 eggs
1/2 cup plain yogurt or sour cream
grated zest of 1 orange (optional)
2 cups total: use the juice of the zested orange and fill to 2 cups with buttermilk
7 oz dark chocolate (42 - 60%) coarsely chopped
Preheat oven to 350°F.
Rub a muffin tin with butter or line with silicon or paper cups. Set aside.
Sift together the buckwheat and all purpose flour, cocoa powder, baking powder, espresso powder, salt and baking soda. Mix and set aside.
In another bowl beat together the butter and both sugars until light and creamy coloured. Add in the eggs and continue to beat until combined.
Add in the yogurt and mix well.
Add the dry ingredients to the wet. Mix well and gradually add the buttermilk/orange juice mixture. The batter should be much thinner at this point.
Gently fold in the chopped chocolate and mix gently.
Scoop the batter into the prepared tins until the batter comes just over the top edge of the muffin cup.
Bake for about 35 minutes or until the muffin springs back or until a tester comes out clean.
Cool on a rack.
Eat warm or store for a couple of days. Freezes well.

Archivo del blog

About Me
St Michael's Choir School is celebrating it's 75th anniversary year of service to St Michael's Cathedral. Part of the school celebration is a trip to Italy where our boys from Grades 5 - 12 will be performing and celebrating Mass. This blog will be chronicling our adventures. Wanda Thorne is the Vocal Coach at St Michael's Choir School. Gerard Lewis is the Grade 7/8 Homeroom teacher at the Choir School.
View my complete profile

My Favourite Cookbooks
About Me
Wanda Thorne

St Michael's Choir School is celebrating it's 75th anniversary year of service to St Michael's Cathedral. Part of the school celebration is a trip to Italy where our boys from Grades 5 - 12 will be performing and celebrating Mass. This blog will be chronicling our adventures. Wanda Thorne is the Vocal Coach at St Michael's Choir School. Gerard Lewis is the Grade 7/8 Homeroom teacher at the Choir School.
View my complete profile

Pages