Trust me, we are not even close to the end of our turkey leftover adventures but from here on out I'm going to have to space things out a bit because we're all getting a little edgy about it. There's more grumbling and whining happening for sure and now that there is also hallowe'en candy to sneak attack, we're eating more of that than the healthy stuff. Who can blame all of us really. I cringe a little every time I look at those bags in the freezer. My brain hurts when I try to think of some new and wonderful thing to make with the stuff. I made cauliflower, broccoli soup with some of the turkey broth but held myself back from throwing in some shredded turkey as well. I feared absolute mutiny.
Last weekend I made these meatballs because I thought - Who is going to turn their nose up at meatballs. Nobody did. They gobbled - I had to hold them back... until I put them in the sauce. The sauce for me was the best part but for the rest (especially Kid#1 and #2) these meatballs were much more enjoyable on their own. What would that make them? Appetizer. How do you make plain meatballs part of a meal? I'm not sure if that even registers for me. I don't understand it. I need sauce to feel like a whole person. Without the sauce each kid ate at least 5 meatballs as soon as they were cool enough not to burn their mouths. They didn't eat any dinner after that. I guess that you could try these without the sauce and see if you like it enough to eat them all (it makes a lot) without any help OR you could also make the sauce and add only if necessary. The sauce was nice enough for me to eat on it's own but whatever, kids have a weird sense of taste... or else I do.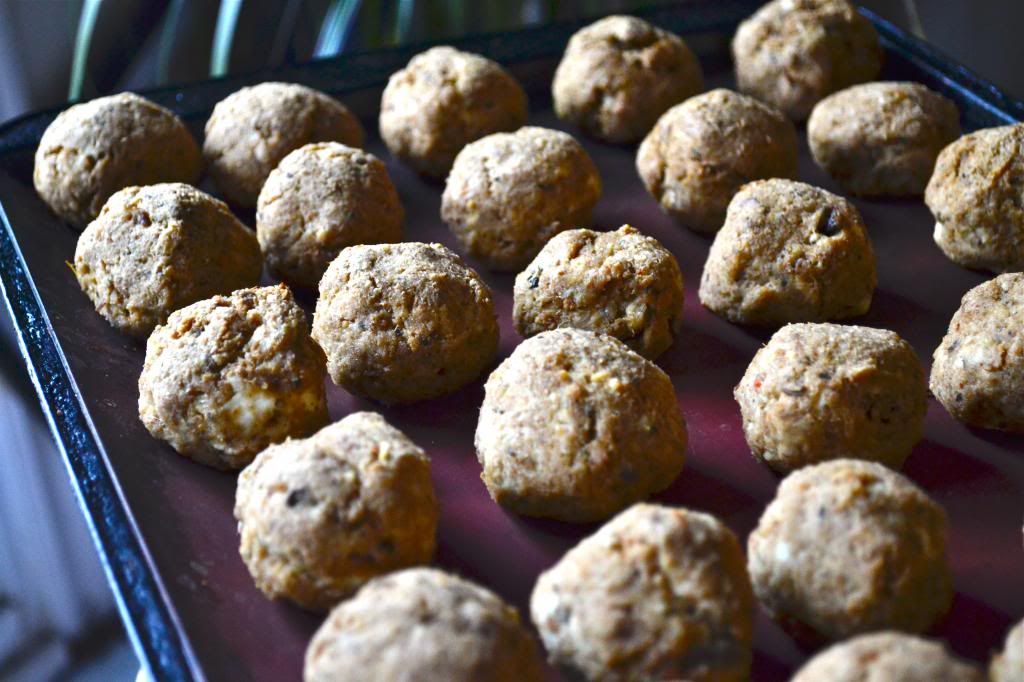 The Meatballs free of any 'icky' sauce
In other news, I tried
curling
yesterday. Curling is weird. A weird Canadian sporting activity that originated in Scotland. Not as weird as Cricket however. Considering you have to slide a 40 lb granite ball along pebbly ice and hope to god that it lands somewhere in the vicinity of the bulls-eye at the other end of the rink and doesn't hit someone's foot or make it's way into someone else's game along the way, it's a pretty uptight sport. Again, embarrassment has never phased me much so a couple of full on face plants on the ice didn't deter me. After figuring out that my butt needs to stick up in the air more things generally got a whole lot better. Any game that requires such vigorous butt raising can't be all bad. I would do it again but only if there was the promise of an evening of alcohol in a very warm place afterwards... and I could play with some interesting butts.
I'm trying very very hard not to get all out of joint with our current Mayoral Bull*&%t but I'm finding it hard not to feel a little depressed about it. If you haven't heard about it then count yourself lucky and I'm not going to fill you in on the details. Besides, you can get the basics
here
. Have a Happy Weekend.
Turkey Meatballs in Tomato Sauce
serves 6
Meatballs:
3 - 4 cup cooked turkey, diced small (I used the giblets too)
3 small cloves garlic, diced
1/4 cup onion, diced small
1 tsp salt
3 tbsp italian seasoning
2 tbsp worcestershire sauce
1 tsp pepper sauce
1 tbsp soy sauce
1 tsp dijon mustard
1 veggie bouillon cube
3/4 cup ricotta
3/4 cup bread crumbs
1/4 cup parmesan cheese, shredded
1 lg egg
2 tbsp oil
Tomato Sauce
1 med leek, sliced
2 red or green peppers, thinly sliced
2 med cloves garlic
5 - 6 leaves lacinato kale (or any green really)
3 cups tomato, diced
2 tbsp worcestershire
1/2 cup red wine or water
1 tbsp italian seasoning (or a mix of dried herbs)
1 heaping tbsp brown sugar or honey
1 1/2 tsp salt
1/4 cup tomato paste
dash of pepper
dash of pepper sauce (optional)
1/2 cup parmesan cheese, shredded
Meatballs:
Preheat oven to 350°F
Line a baking sheet with parchment or a silicon liner and set aside.
Use a blender or a food processor (much easier - I had to stop the blender every few seconds, stir everything and pulse again. Stop. Repeat. Bored) pulse the turkey until it resembles the texture of mush. Add the garlic, onion, salt, italian seasoning, worcestershire, pepper sauce, soy sauce, dijon mustard and bouillon cube to the mixture and pulse again and again until it's all mixed in.
Pour into a bowl.
Add the ricotta, bread crumbs, parmesan cheese, egg and oil.
Get your fingers in there and finger it all together, through your fingers and mix it all together. Mix until everything is well blended.
Shape a large spoonful into a meatball and place on the prepared baking sheet. Once all of the meatballs are ready, bake for about 25 minutes or until golden and the bottoms are brown.
Remove the oven and set aside.
Tomato Sauce:
Heat a heavy bottomed pot over med heat.
Add about 3 tbsp of grease or oil. Heat it for a minute.
Add the leeks, peppers and garlic. Turn the heat down to med/low and let it sweat together for about 12 minutes or so.
Add in the diced tomato, worcestershire, wine, brown sugar, salt and tomato paste.
Simmer over med/low heat for another 15 minutes. It will cook down quite a bit.
Add the kale, pepper, pepper sauce and parmesan.
Let it cook for about 5 minutes or until the kale is wilted.
Add in the meatballs and remove from heat.
Serve with egg noodles, mashed potatoes or regular pasta.
I am happy to report that I had one person on Facebook co-bitch with me regarding the abundance of pumpkin themed food and food products. I feel vindicated and thoroughly supported. This person later sent me a picture of on of our local spot's advertising their homemade pumpkin pie yogurt. We both had a good laugh about it and my friend told me that pumpkin kefir is probably making it's way to store shelves as we speak. Yeah - totally vindicated. All of the rest of you probably think that I'm nuts or you are so busy sipping your pumpkin latte and eating your pumpkin pancakes that you haven't had a chance to tell me off. I'm sorry for 'not loving' pumpkin.
Of course, the reason for all of the pumpkin crazy is because it's squash season and squash season ends up being Thanksgiving season. Canada has already had it's Thanksgiving. I don't know why we have it early and I know that a quick jaunt over to wikipedia would fill me in but the truth is that I simply don't care enough to make the trip. Whatever the reason, Canada observes Thanksgiving a month and a half before the U.S. This means that we've got turkey to deal with long before Americans even have to think about it. At our house this year, it means that if we can get away with it we will not have to think about turkey for a very very long time... well beyond christmas.
Turkey has a reputation for being dry - not entirely unfounded. I've had some nasty, dry birds at my table. This year we bought ours from a Mennonite shop where the birds are looked after well and have a happy life and all of that crap. I think it made a difference. In addition to that, D painstakingly marinated the turkey with his home concoction of deliciousness that made a huge difference. He was setting his timer throughout the entire day, taking it out, pouring more sauce over it, sticking it back in the oven. Painstaking.
My issue with turkeys isn't just the dry texture though, it's also the size. They're big. I've seen some at the Mennonite shop that took two people to carry out which I don't quite understand. Either way, it's hard to get a truly small turkey and no matter, you're still looking at some hefty leftovers. D took care of the turkey purchasing and I guess decided that 18 lbs sounded like a good idea. I know what it can be like when you are there in the store. You kind of get caught up in the moment. All those other people lining up to pick up their turkey and you want a turkey and you're all celebrating something and it feels all holiday like. I get it. However, we are a family of 4. One of those 4 people is 7 yrs old. Another one of those 4 people (me) had a stomach bug the entire weekend and could barely stand up for two days let alone eat. 18 lbs of turkey takes a little while to get through for 4 people.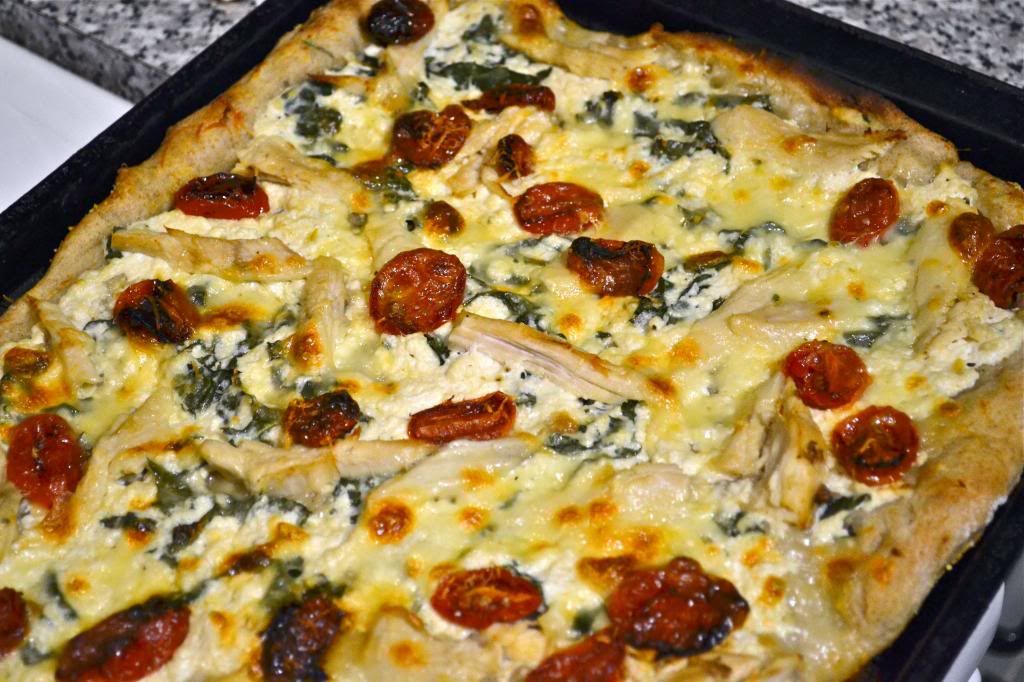 Our very big thanksgiving dinner used up about a half of a turkey breast between the four of us which left us with roughly 17 1/2 lbs of turkey to get through. We ate leftover thanksgiving dinner - that took up two days. I decided that I needed to clear out the fridge a bit so I made broth with the bones and all of that stuff - there are now 3 large containers of broth in the freezer. I made turkey lasagna (Leftover Turkey #1) to mixed reviews but it mostly got eaten - that used up about 3 cups of turkey. I made Turkey Orzo with cheese and crap (Leftover Turkey #2) to decidedly poor reviews - kind of got eaten - used up about 2 cups of turkey. I had to get smart. What are things that kids will eat almost no matter what? Meatballs - coming in my next post, Pizza - Yes, Pizza. So I give you turkey pizza. I don't know what I'm going to do with the 6 1/2 lbs of turkey still in the freezer or or the 4 litres of turkey broth. I honestly don't know how much more turkey any of us can face. This pizza helped the cause along a little and I think may have kept my kids from divorcing me. I would caution that the tomato and goat cheese are essential because turkey quite honestly needs all the help it can get.
For Christmas this year we are having lamb.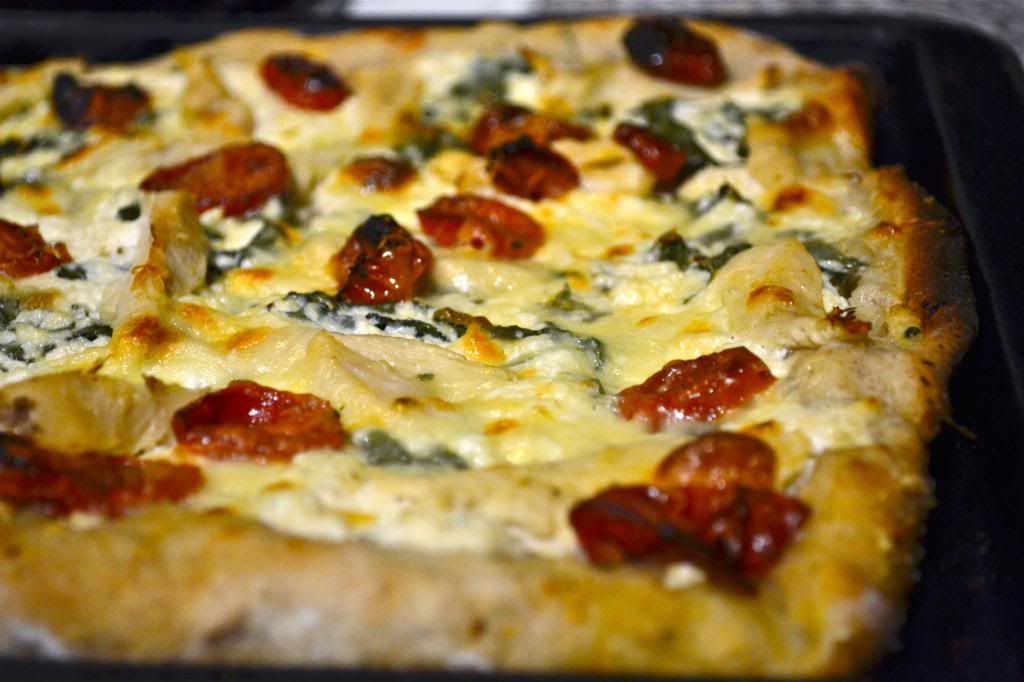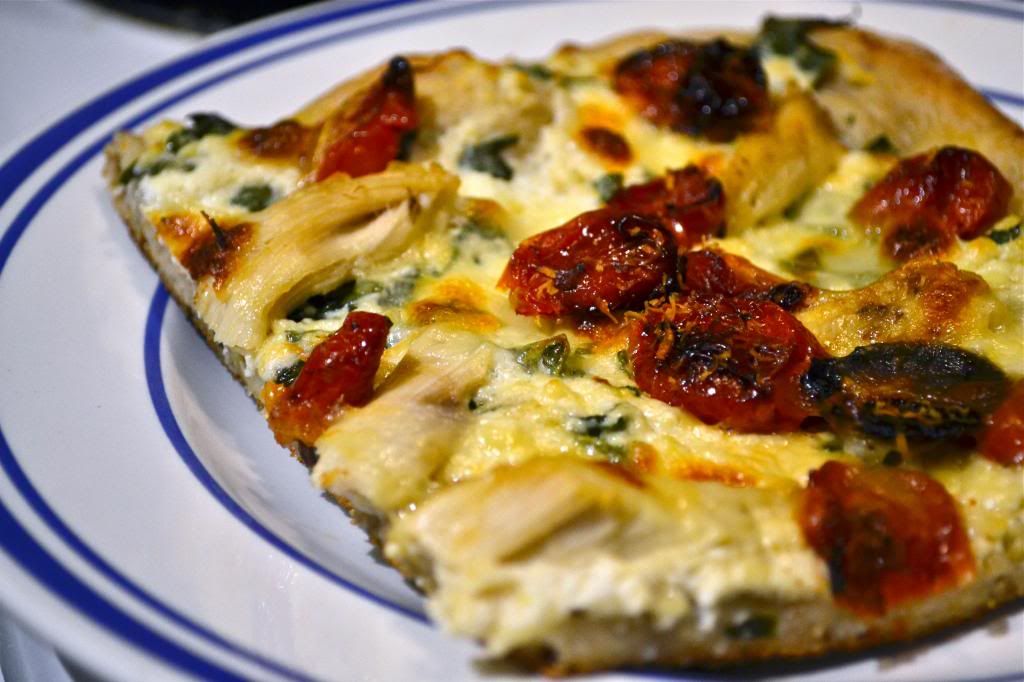 Turkey and Ricotta Pizza (
my recipe)
Makes 2 medium pizza's
1 batch pizza dough (I used
this recipe
)
3 cups cherry tomatoes, halved
2 tbsp each, olive oil and balsamic vinegar
3 lg cloves garlic
salt
2 1/2 cups ricotta
1 tbsp Worcestershire sauce
1 tsp salt
1 tbsp italian seasoning (or a mix of basil, oregano, marjoram)
1 cup chard or kale, finely chopped
1 cup goat cheese, crumbled
2 cups cooked turkey, shredded
2 - 3 cups mozzarella, shredded
1/2 cup shredded parmesan
Preheat oven to 300°F
Combine the cherry tomatoes, balsamic and olive oil. Place on a lined baking sheet, spreading them out so that they make one layer. Sprinkle with a little salt. Roast for about 45 minutes turning down to 250°F for the last 10 minutes. Remove from oven and cool a little.
Preheat oven to 475°F
Prepare baking sheets or pizza stones (for baking sheets, I coat them with a little cornmeal to that the crust doesn't stick) and set aside.
Combine the ricotta, Worcestershire, salt, italian seasoning. Mix well. Add the chopped kale and mix well.
Roll out pizza dough into the shape of your pan or stone and place the dough onto the prepared pans.
Divide the ricotta evenly between the pizza's and spread evenly around each pizza crust.
Sprinkle each pizza with roasted tomatoes, crumbled goat cheese, shredded turkey pieces evenly around.
Sprinkle with mozzarella cheese and parmesan.
Bake for about 12 - 15 minutes or until each pizza is bubbly, golden and the crust is crusty on the bottom.
Remove and cool for a few minutes before slicing.

Archivo del blog

About Me
St Michael's Choir School is celebrating it's 75th anniversary year of service to St Michael's Cathedral. Part of the school celebration is a trip to Italy where our boys from Grades 5 - 12 will be performing and celebrating Mass. This blog will be chronicling our adventures. Wanda Thorne is the Vocal Coach at St Michael's Choir School. Gerard Lewis is the Grade 7/8 Homeroom teacher at the Choir School.
View my complete profile

My Favourite Cookbooks
About Me
Wanda Thorne

St Michael's Choir School is celebrating it's 75th anniversary year of service to St Michael's Cathedral. Part of the school celebration is a trip to Italy where our boys from Grades 5 - 12 will be performing and celebrating Mass. This blog will be chronicling our adventures. Wanda Thorne is the Vocal Coach at St Michael's Choir School. Gerard Lewis is the Grade 7/8 Homeroom teacher at the Choir School.
View my complete profile

Pages