I am typing furiously in a desperate attempt to ignore the panic that is slowly but steadily rising in my soul. Snow. We have snow and copious amounts of it. It has been falling since the morning and although it is now later afternoon, has not abated. I'm guessing 8cm so far. D has a gig tonight out of town and I have to head with kid #2 to a concert being given by kid #1's choir. I want to curl up in a blanket and watch a movie, allowing me to look at the falling and blowing white stuff safe and snug inside my house. The true source of my panic however is the immediate change in lifestyle that will begin now and extend probably into the end of February - if I'm lucky. I am watching my biking days go bye bye and I won't be running for a few days until this snow gets cleared. Wait just a second, I need to go and breath into a paper bag.
It's not that I'm addicted but I'm addicted. It feels good to be active. Really really good. It feels like I've got some control over my life and that's because it probably releases some endorphins or some kind of crap that makes me feel like everything is awesome. Running and biking also gives me a precious few minutes all by my little lonesome. Something that is a rare commodity for me. When it is gone it feels like something has been stolen and I'm a little emptier for it. The good news is that the temps are supposed to have risen above freezing in a few days so I'm keeping my fingers crossed that this snow will pass if only for a little while... it is December after all. I'm supposing that makes me some kind of grinch or something. Who doesn't want snow at Christmas?
Speaking of Christmas... it's coming soon so I'm told. One of my co-workers (who obviously doesn't read my blog!) asked me whether I had my turkey. I told her that if I didn't see a turkey for an undetermined - but long - period of time that it wouldn't hurt my feelings at all. Turkey for Christmas? No way. We are so sick of turkey thanks to the 18lbs of it that I can now proudly tell you, we have eaten our way through. This recipe marked the last bag of turkey in the freezer. Somehow we made our way through 6 bags of the stuff. I've forgotten exactly how we whittled our way through and much of it I have chronicled here. Truth is that even though I've marked this as 'leftover #6' this is really about number nine or ten. Some of my leftover use-ups were really not good at all and I didn't have to heart to bother with them here.
Good news, these turkey buns didn't suck. In fact, I'm told that they were good. Really good. D told me that they were amazing. The kids didn't even care that they were turkey. Didn't even ask. Eight or nine or ten leftover recipes later and I have finally hit the jackpot. Originally, I wanted to make a sweet and sour pulled pork kind of thing with the turkey but that would have required making something else to go with it. You know a bun or noodles or whatever. For one reason or another, I just couldn't bring myself to do it and started to concentrate intently on what a solution could be.
I made these things called beef margaritas a million years ago and posted the recipe here. They were a huge hit and I haven't made them since. I thought it would be worth giving them a whirl with bbq'd turkey and decided to take the leap. Paid off.
Yay for big jumps, paper bags and no more turkey.
BBQ Turkey Buns
serves 4 - 6
makes about 10 buns
Use the dough recipe from
this post
1/2 cup onion, diced
3 cloves garlic
1 stalk celery, diced
2/3 cup (about 1) red pepper, diced
1 cup mushrooms, stalks removed and diced
2 1/2 cups cooked turkey, diced
1 bouillion cube, crushed up (I used a veggie one)
3 tbsp worcestershire sauce
2 tbsp soy sauce
2 tbsp mixed herbs (parsley, marjoram, oregano, rosemary)
2 tbsp apple cider vinegar
3 heaping tbsp brown sugar
1/2 cup ketchup
1/4 cup bbq sauce
1 tbsp dijon mustard
1 1/2 tsp salt
pepper sauce (optional)
Heat a large pot or dutch oven over medium heat.
Add some oil or grease (about 1 1/2 tbsp)
Add the onion and celery. Saute for about 3 minutes. Add the garlic, red pepper and mushrooms. Add another 1 1/2 tbsp of oil or grease and turn the heat down to med/low.
Cook together, stirring regularly, for about 5 minutes or until the pepper and mushrooms begin to soften and caramelize.
Add in the diced turkey and stir to mix.
Add the bouillon cube, worcestershire, soy sauce and mixed herbs. Stir and cook together for a few minutes.
Add the apple cider vinegar and brown sugar and cook together for another 2 minutes.
Add the ketchup, bbq sauce, mustard, salt and pepper sauce.
Cook together for about 7 minutes at low heat but the mixture should still be simmering to allow it to thicken up a bit. If it's too thick then add a couple of tbsp's of water.
Check the taste and adjust if necessary. Set aside to cool.
Preheat the oven to 350° F.
Line a cookie sheet with parchment or a silicon liner.
Prepare the dough and then roll it out in a rectangle shape to about a 1/2 inch thickness.
Spread the meat mixture over the rectangle of dough.
Roll up the dough from long edge to long edge.
Slice the log about 1 1/2 - 2 inches thick and place each roll sideways on the baking pan leaving some room in between each roll.
Bake for about 35 minutes or until the rolls have risen and spread out and the edges have browned nicely.
Remove and cool for about 10 minutes before breaking them apart and serving.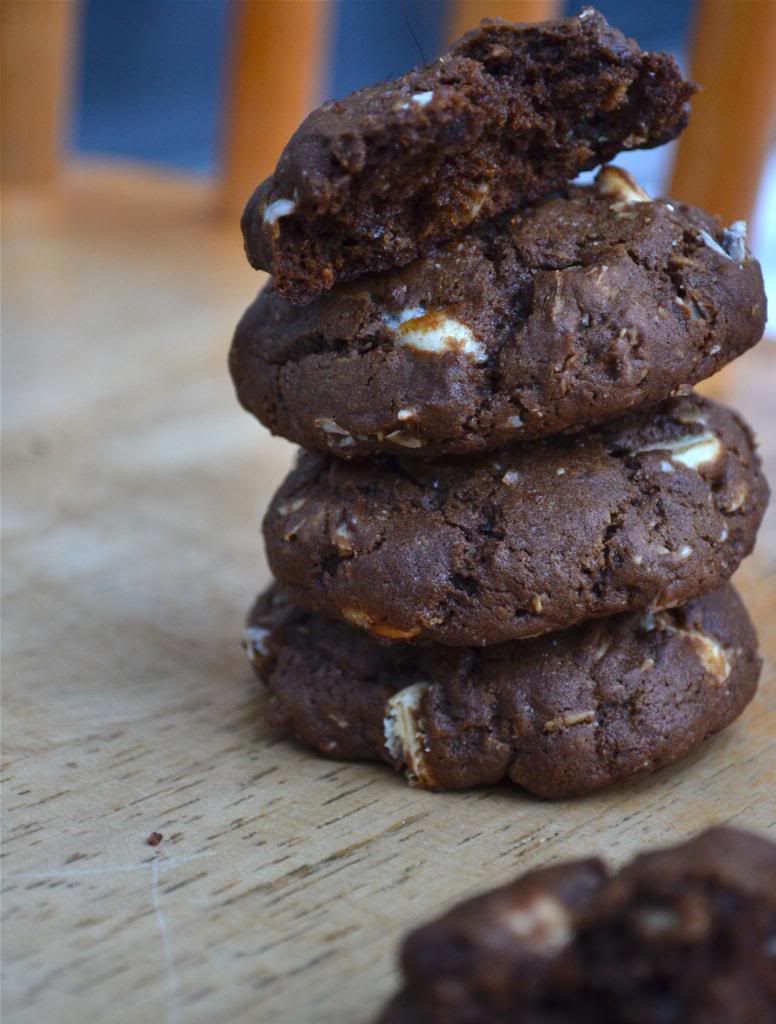 It's officially winter and two weeks away from Christmas. Two out of three December birthdays have passed and I have a total of 5 events left until I can breath a sigh of relief. I've 'stretched' myself in new directions at work more than I ever thought I could. I'm still biking and running out there in the cold (but I won't tell you I like it) and generally keeping active. My kids are happy and doing well. I should be contented and happy about all of this and I suppose that somewhere deep down I really am. The problem is, I haven't been able to take it all in yet. At least that's how it feels. The pace just hasn't let up enough for me to absorb it.
Happily, the pace did not prevent me from making chocolate mousse cake for D's birthday. Add to that the sweet and sour meatballs meal that was requested (we do that for birthdays - favourite meal kinda thing) It also did not keep us from ordering a lovely flower arrangement for my Mom's birthday... but that was thanks to D. In fact, D is doing a lot of things right now while I learn how to stage manage concerts and organize events and get Cantors ready for Christmas Masses. D is getting the tree (and possibly trimming it). D has ordered the Ham (and will probably be picking it up too). D has organized our Christmas Day family get together. Guess who's going to be doing the bulk of the christmas shopping? If it weren't for D then I would be treeless, presentless, hamless mess on December 20th. As we slowly approach the 20th, I try not to dwell too much on how awesome that first sleep in and morning coffee is going to feel because then I get more depressed.
One of the things that I'm looking forward to most is being able to take a day or two (or four) and bake. I don't want to eat the baking. Couldn't care less - I just want to bake and for some reason the thought of baking cookies holds the most anticipation. I can't wait to make my traditional christmas cookies and this year I want to add my Grandmother's shortbread to the list. I want to have the ingredients surrounding me and be stirring and mixing and breaking eggs. I want to feel the warmth of the oven and hear the comforting tick of the timer. I want to see all of those cookies piled up into containers and enjoy how lovely they all look together.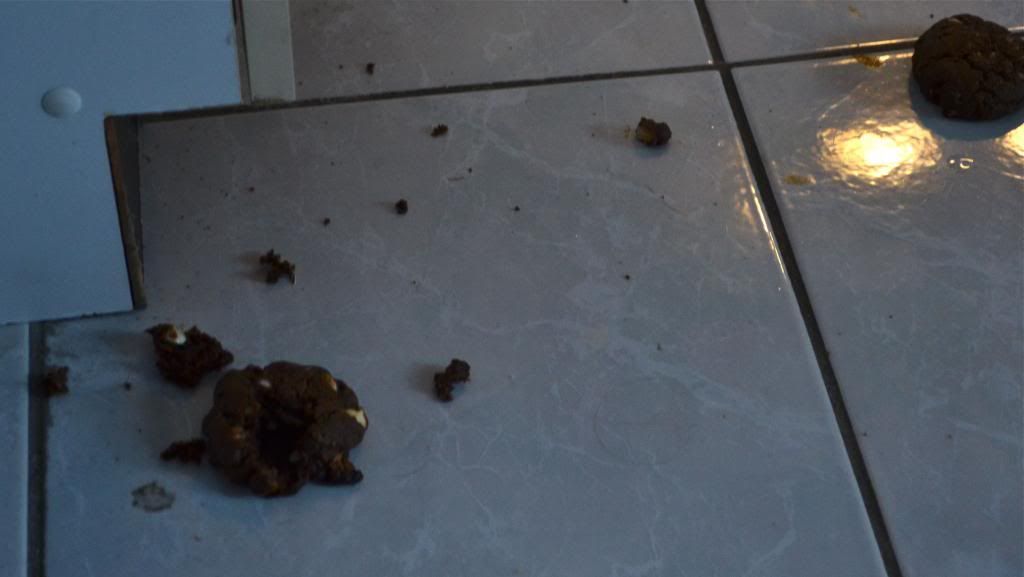 Just a part of the cookie carnage.
I made these cookies in a one hour window on a Sunday afternoon where I had both time and light on my side. Barely though and in my haste to get a photo of the cookies I dumped a few on the floor... it happens. These will be a lovely addition to anyone's christmas cookie party and I might even make them again before the year is out. However, I will make sure that when I carry them out to take pictures that I walk carefully. Also, kids will eat molasses cookies when you put white chocolate in them. FYI.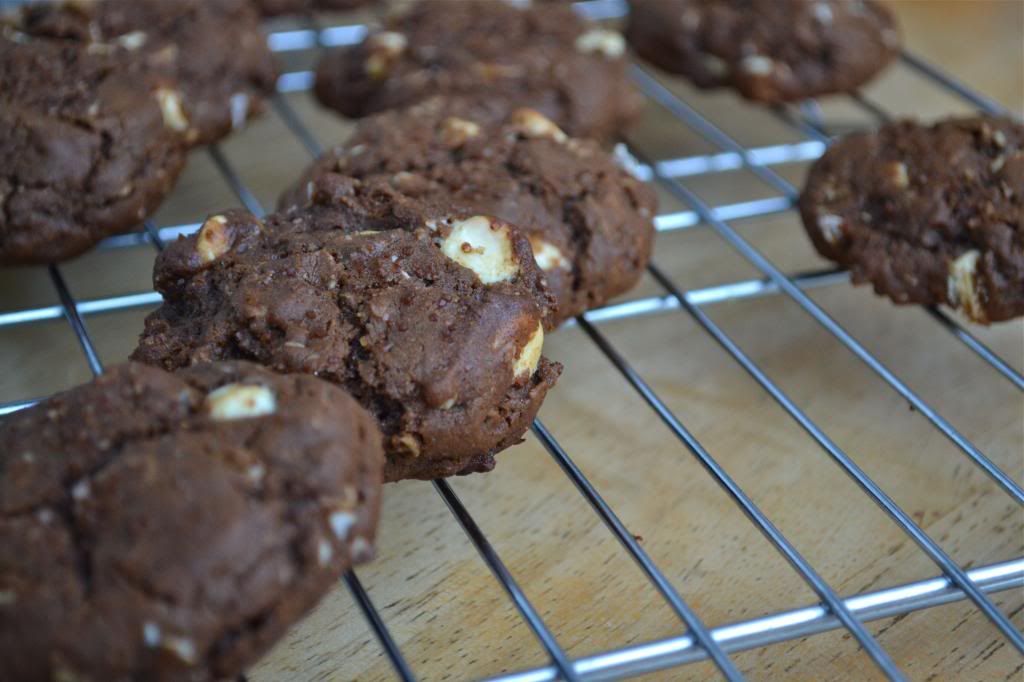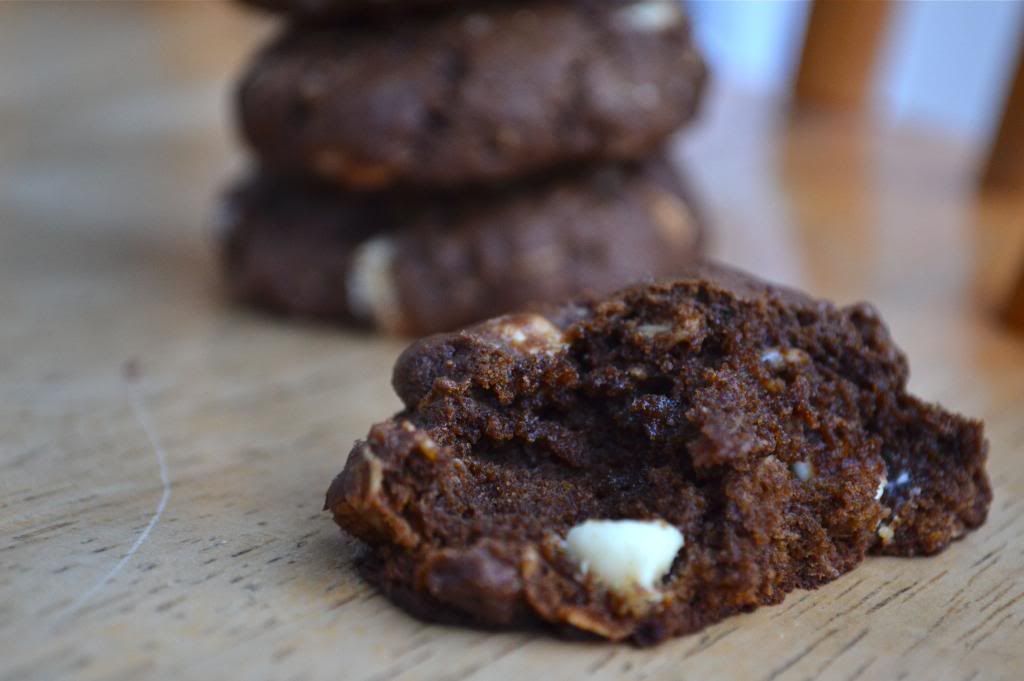 Molasses and White Chocolate Cookies
adapted (slightly) from
Peabody
makes about 3 dozen med/small cookies
2 cups unbleached, all purpose flour
1 cup oats (old fashioned)
1 tsp baking soda
1 tsp salt
2 tsp ginger (I used fresh but ground is fine)
1 tsp cinnamon
1/4 tsp nutmeg
pinch of cloves
3/4 cup unsalted butter at room temperature
3/4 cup brown sugar
1/2 cup molasses
1 lg egg
1 tsp vanilla
1 cup (scant) white chocolate chips
1/4 cup sugar - the coarser the better (mix with a little cinnamon)
Combine the flour, oats, baking soda, salt, ginger, cinnamon, nutmeg and cloves together. Mix and set aside.
Beat together the butter and brown sugar for about 3 - 4 minutes or until light and fluffy. Add the molasses and continue to beat for another 2 minutes. Add the egg and vanilla and beat until combined (about 1 1/2 minutes)
Add the flour mixture to the molasses mixture and stir/mix to combine completely. Add in the white chocolate chips and mix evenly. Cover completely with plastic wrap and refrigerate for about 4 hours (or overnight)
Preheat the oven to 350°F
Line a cookie sheet with parchment or a silicon liner.
Scoop spoonfuls (I used about a tbsp and a half) of dough onto the cookie sheet. Press each cookie down a little and sprinkle with the cinnamon sugar
Bake for about 10 minutes - cookies may be a little softish in the centre but the edges should be just turning brown.
Remove and cool.
Store in a airtight container.

Archivo del blog

About Me
St Michael's Choir School is celebrating it's 75th anniversary year of service to St Michael's Cathedral. Part of the school celebration is a trip to Italy where our boys from Grades 5 - 12 will be performing and celebrating Mass. This blog will be chronicling our adventures. Wanda Thorne is the Vocal Coach at St Michael's Choir School. Gerard Lewis is the Grade 7/8 Homeroom teacher at the Choir School.
View my complete profile

My Favourite Cookbooks
About Me
Wanda Thorne

St Michael's Choir School is celebrating it's 75th anniversary year of service to St Michael's Cathedral. Part of the school celebration is a trip to Italy where our boys from Grades 5 - 12 will be performing and celebrating Mass. This blog will be chronicling our adventures. Wanda Thorne is the Vocal Coach at St Michael's Choir School. Gerard Lewis is the Grade 7/8 Homeroom teacher at the Choir School.
View my complete profile

Pages